Britain's PM Ejects 23 Russian Diplomats Over Nerve-Agent Attack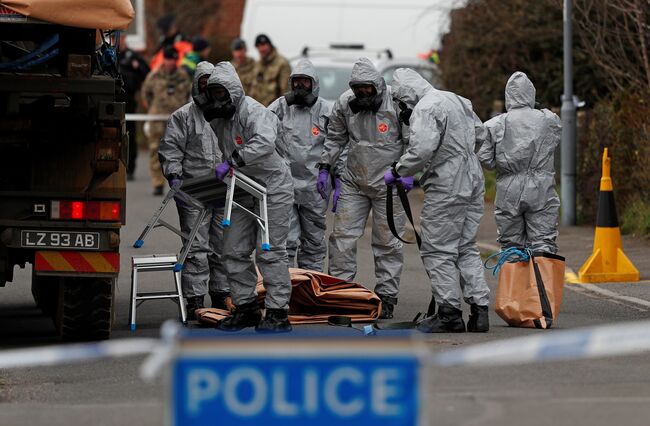 Britain's Prime Minister Theresa May said today that the UK would expel nearly two-dozen Russian diplomats and cut high-level bilateral contacts over the assassination attempt of a former Russian spy in Salisbury last week.
In a speech delivered to Parliament, May rejected the Russian response to the nerve-agent attack as "sarcasm, contempt, and defiance." She told lawmakers that "The Russian state was culpable for the attempted murder of Mr. Skripal and his daughter," declaring the attacks as an "unlawful use of force by the Russian state against the United Kingdom."
Expelling the diplomats falls just short of an accusation of war.
Russia's Foreign Ministry said Britain's decision to expel their diplomats was a "crude and hostile" response and that May's statements were "an unprecedentedly crude provocation that undermines thefoundations of a normal interstate dialogue between our countries."
The Ministry did not elaborate whether any retaliatory measures would be taken against the UK, but promised that "our response will not be long in coming."
"We consider it categorically unacceptable and unworthy that the British government, in its unseemly political aims, further seriously aggravated relations, announcing a whole set of hostile measures, including the expulsion of 23 Russian diplomats from the country," the Ministry added.
May gave the Russian government until midnight on Tuesday to provide an explanation about how a nerve agent developed in Soviet laboratories came to be used in the March 4th attack on former Russian spy Sergei Skripal and his daughter Yulia.
The expulsion of Russia's diplomats by the UK is the largest since the Cold War ended in 1991.
The Washington Post reports that this may not be the end of Britain's response. A range of diplomatic and financial sanctions remain available to UK lawmakers including a possible clamp down on Russian oligarchs' property-buying binge in London, to expelling more embassy staff.
Russia's diplomats have been given a week to leave Britain.