The last American defector to North Korea has died
James Joseph Dresnok--An American in Pyongyang
One of the least talked about aspects of the Korean War was the fact that several American soldiers defected to North Korea. Twenty one soldiers and POWS refused to cross the DeMilitarized Zone (DMZ) after the Armistice; however, most of them were eventually returned to the US. But there were six other Americans who willingly defected to North Korea after the Armistice; they lived there, married, had children, made lives.
Well, James Joseph Dresnok, the last surviving defector to North Korea has died.
Actually, he died in November of last year, but his two sons just confirmed the news. He died, reportedly, of a stroke.
What makes a guy, who grew up in Richmond, VA and Pennsylvania, who joined the Army at 17, defect to one of the most brutal, repressive, and backwards places on earth?
Was he a true believer? Maybe. Mr. Dresnok defected in 1962. He just walked across a minefield at high noon and crossed into Korea. But, he wasn't a hardened Communist. He wasn't a Fellow Traveller. He was a guy who didn't want to accept his punishment in a court martial. He wasn't a hero.
James Joseph Dresnok joined the Army at 17, married a girl, got sent to West Germany with the Army, and when he returned, discovered that his wife had left him for another man. So, he reenlisted in the Army and got sent to South Korea.
His Army service was not stellar. He was accused of forging signatures on leave passes, and eventually found guilty of being Absent Without Leave (AWOL). Rather than face punishment, Dresnok ran, literally ran across a minefield on August 15, 1962 while his fellow soldiers were eating lunch. He was captured by North Korean soldiers and sent on to Pyongyang for interrogation.
When interviewed for a biography titled Crossing the Line, Dresnok said, "I was fed up with my childhood, my marriage, my military life, everything. I was finished. There's only one place to go. On August 15th, at noon in broad daylight when everybody was eating lunch, I hit the road. Yes I was afraid. Am I gonna live or die? And when I stepped into the minefield and I seen it with my own eyes, I started sweating. I crossed over, looking for my new life."
When he got to North Korea, he met a few other American defectors--Larry Abshier, Jerry Parrish, and Charles Jenkins. Together these four amigos did propaganda for North Korea--they would broadcast messages to the US troops across the DMZ. Things along the lines of "Defect! You're living in a decadent society!" or "Leave! No one wants you here!" or "Lay down your weapons! You've been defeated and just don't know it, yet!". The funny thing is that none of these guys thought that staying in North Korea was a long term proposition. They tried to defect en masse to the Russians in 1966, but that didn't work out.
When Dresnok returned to North Korea, he met and maybe married a Romanian woman named Doina Bumbea, with whom he had two sons, Theodore "Ted" Ricardo Dresnok and James Gabriel Dresnok. Bumbea supposedly worked at the Romanian Embassy, but some accounts claim that she never worked there and was in fact an abductee taken by the North Korean secret service. According to Bumbea's family, she was living in Italy as an art student when she vanished, after telling people that she had met a man who promised to help arrange exhibitions of her art in Asia. Oh that's nice, the Kims wanted Dresnok to have a European wife, so they kidnapped one for him.
Dresnok made a living in North Korea as an English teacher and actor--he would play the Evil American in TV productions. I hear he got so good at it that his two sons now have filled his shoes.
Dresnok had his share of problems in NoKo. His wife died of lung cancer in 1997. But he remarried a woman who was the child of a North Korean woman and Togolese diplomat. They also had a son.
But Dresnok older boys are doing the old man proud. Not only do they play the Evil Americans on TV, but they are also officers in the North Korean Army. During an interview about Dresnok's death, Ted, the older son said "Our father asked us to render devoted service to our great leader Kim Jong-un".
Ted doesn't seem to have any divided loyalties at all. When asked about the recent tensions between North Korea and the US, he said that the US was underestimating the North Korean Army's capabilities, and that "we will not miss the opportunity and wipe the land of the US from the earth for ever".
James Dresnok once famously said that he wouldn't leave North Korea even if "you put a billion damn dollars of gold on the table".
Now he won't have to ever make that decision.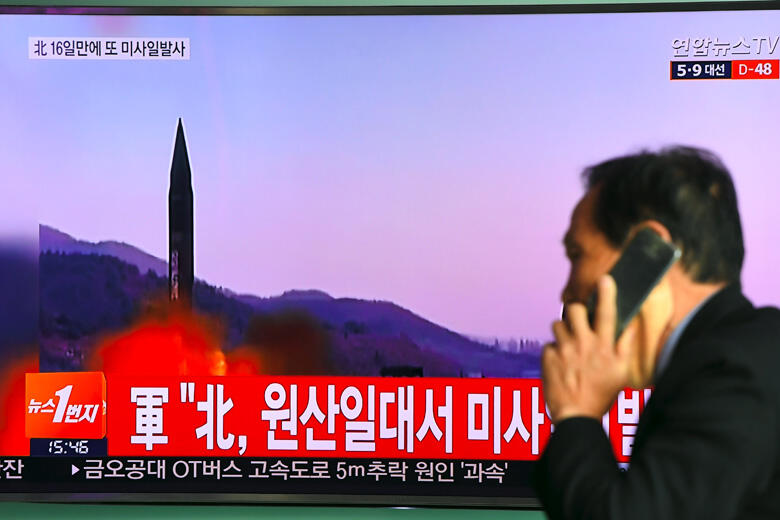 The Pursuit of Happiness
Ken Webster Jr is a talk radio personality and producer from Houston, TX. He started his career in Chicago on the Mancow show and has since worked at dozens of radio stations all over the country. He's currently the host of Pursuit of Happiness...
Read more