KAVANAUGH ACCUSER ADMITS HER STORY WAS MADE UP, SHE WANTED ATTENTION
A woman from Kentucky who accused Brett Kavanaugh of rape during his confirmation hearings has now admitted she lied.
Judy Munro-Leighton of Oceanside, California contacted the office of Sen. Kamala Harris (D-CA) as "Jane Doe" and claimed that Kavanaugh and a friend raped her "several times each" in the backseat of a car.
Kamala Harris, with no evidence other than the letter, referred the claim to the Senate Judiciary Committee for investigation.
Kavanaugh was questioned on September 26 about the allegation. He said the, "whole thing is ridiculous."
The woman who made the false allegation was apparently just looking for attention. Now she's going to get lots of legal attention, which is probably not what she intended when she lied.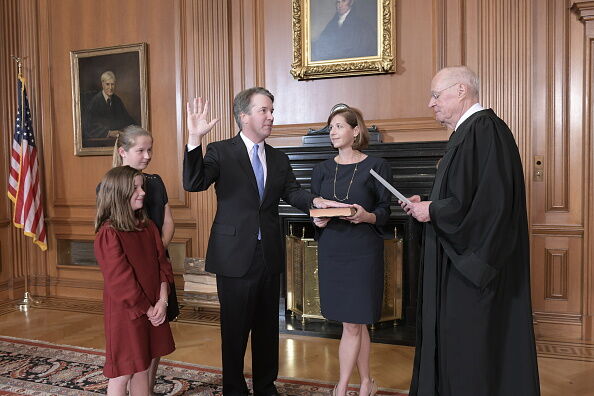 WASHINGTON, DC - OCTOBER 6: In this handout photo provided by the Supreme Court of the United States, Justice Anthony M. Kennedy, (Retired) administers the Judicial Oath to Judge Brett M. Kavanaugh as his wife Ashley Kavanaugh holds the Bible while joined by their daughters Margaret and Liza, in the Justices Conference Room at the Supreme Court Building on October 6, 2018 in Washington, DC. (Photo by Fred Schilling/Supreme Court of the United States via Getty Images)

The Pursuit of Happiness
Ken Webster Jr is a talk radio personality and producer from Houston, TX. He started his career in Chicago on the Mancow show and has since worked at dozens of radio stations all over the country. He's currently the host of Pursuit of Happiness...
Read more