MIGRANT CARAVAN SUES TRUMP FOR VIOLATING RIGHTS THAT THEY DON'T HAVE
If the the Migrant caravan had any chance of winning over moderates and non-political types in the US, they just shot themselves in the foot, figuratively speaking.
Twelve Honduran nationals from the migrant caravan 7are suing Trump for violating their 5th Amendment rights, which is interesting if you consider none of these people have ever stepped foot in the United States.
The suit was filed in the DC US District Court,. It states that Guatemala, Honduras and El Salvador are "undergoing a well-documented human rights crisis."
he suit claims the plaintiffs' right to the Administrative Procedures Act and the Declaratory Judgement Act were being infringed upon.
They claim that the President's statements about preventing the caravan from entering the U.S. violates their rights because the President cannot stop asylum-seekers.
The suit says Trump stoked "fear and hysteria" by claiming criminals and gang members have joined the caravan.
Funny thing about that: criminals and gang members HAVE joined the caravan. According to a recent report by the Department of Homeland Security, over 270 members of the caravan are convicts or known gang members.
There have already been incidents of caravan members shooting at police and throwing Molotov cocktails. This is reality - people were arrested for these incidents.
The caravan members who filed this lawsuit have just done a fantastic job of proving Trump right by demonstrating they're own arrogance. They have little to no concern for what Americans actually want - they're going to force their way into our country.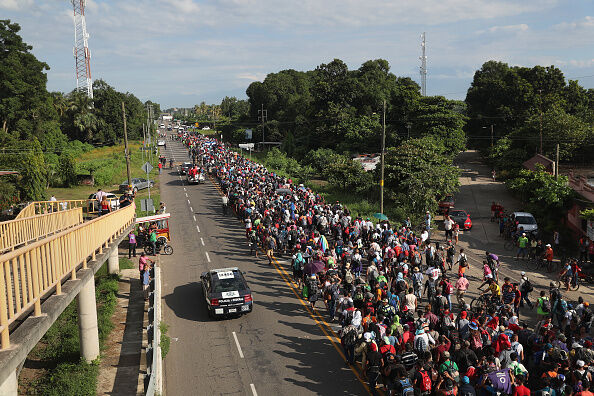 CIUDAD HIDALGO, MEXICO - OCTOBER 21: A migrant caravan walks into the interior of Mexico from the Guatemalan border on October 21, 2018 near Ciudad Hidalgo, Mexico The caravan of thousands of Central Americans plans to eventually reach the United States. U.S. President Donald Trump has threatened to cancel the recent trade deal with Mexico and withhold aid to Central American countries if the caravan isn't stopped before reaching the U.S. (Photo by John Moore/Getty Images)

The Pursuit of Happiness
Ken Webster Jr is a talk radio personality and producer from Houston, TX. He started his career in Chicago on the Mancow show and has since worked at dozens of radio stations all over the country. He's currently the host of Pursuit of Happiness...
Read more