Caravan Migrants Have Arrived & It's Not What the Liberal Media Expected
Oh joy! The caravan (or, more accurately, one of the caravans) is here! Now liberals will finally get to see why we sent troops to the border...
...the real reason. Folks, it's probably not what you think. Seriously, what do you think all of General Mattis' troops are doing down at the border? If you're to believe the liberal media, you're probably expecting the troops at our border to start shooting at migrants, right? Or are they capturing the refugees in nets? Maybe the troops are sealing up the migrants in a box and mailing them back to their third world Central American crap-hole countries?
Nope – basically the National Guard and Border Patrol are busy setting up tent cities, passing out meal rations and bottle water and making sure everyone is getting proper healthcare treatment.
Yep. Sorry for bursting your bubble, hyperbolic America, but that's literally what they're doing - helping the caravan. It's not exactly a tense showdown at the O.K. Corral.
Last night members of a caravan from Central America reached the U.S. border near Tijuana and slept in shelters and in tents.
They arrived by bus and several men climbed on top of the fence to take a look at their final destination.
There are currently about 200 migrants in the group but many more are on the way. If conservatives don't like this news they should lobby politicians to change our laws that grant asylum to refugees. If liberals don't like this news they should volunteer their homes to the migrants so they can free up room in the tents and border facilities. But neither group will probably do what they "should" do, and instead just focus on complaining and whining on social media while invoking no change. This is the state of our immigration system in 2018.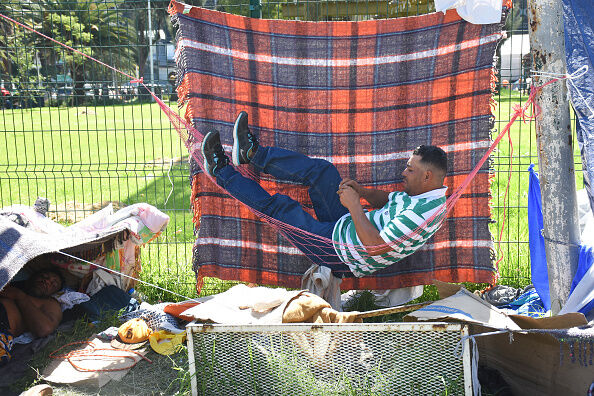 Photo of caravan member taking a siesta by Getty Images

The Pursuit of Happiness
Ken Webster Jr is a talk radio personality and producer from Houston, TX. He started his career in Chicago on the Mancow show and has since worked at dozens of radio stations all over the country. He's currently the host of Pursuit of Happiness...
Read more