Alexandria Ocasio-Cortez's "New Green Deal" Isn't New or Green
Socialist politician Rep.-elect Alexandria Ocasio-Cortez is really excited about her "Green New Deal."
But the deal is neither green nor is it new. In fact, we've seen all these policy ideas in the past they've been historical failures.
Basically Alexandria's "plan" is to move our entire nation's energy grid away from fossil fuels by 2030. This is rather ambitious if you consider we currently get 87% of our energy from coal, oil and natural gas. While she says she wants our nation to move to renewable sources of energy, her plan makes no mention of hydro-power, which is currently the nation's largest source of renewable energy.
It doesn't sound like Alexandria has given her plan a lot of deep thought. In order to move the world away from natural gas and coal, we would need to produce millions of tons of steel and iron. In fact, a single megawatt of electricity produced with natural gas takes about 5.2 tons of iron and steel, while a megawatt of wind energy requires 542.3 tons of iron and steel and, just so we're clear, the amount of iron and steel we'll need to produce all that energy is really really expensive (and will create lots of carbon pollution in the process).
So exactly how expensive will it be to get the whole country off fossil fuels? Christopher Clack, a physicist who studies renewable energy, says simply building the infrastructure to create this new energy will cost over $2 trillion (and that's a much lower number than what most experts estimate).
Details, facts and raw data are not included in Alexandria's "New Green Deal" – she just thinks renewable energy will be great for the planet, but she fails to realize producing all that steel and iron isn't exactly a "green" solution to our Earth's pollution problems.
Alexandria really wants us to get off fossil fuels, but her resolution doesn't explain how this process will take place. She doesn't have a mandate for renewable energy sources. Simply put, she doesn't specify how the U.S. will wean itself off non-renewable power sources because she doesn't know the answer to that question.
So then what the heck does her plan say? Well, in short Alexandria wants to create a House committee to help devise a plan to move us off renewable energy. In other words, her plan is to form together a team of people (politicians) who will come up with another plan. We'll pay them to come up with this plan, of course, and they'll pay some other "experts" to give input. And after all that's done, we still won't really know what to do, because we've tried all these things in the past and they didn't work – this committee already existed. She wants to revive an old committee that was deactivated by the GOP. That's her plan.
Wow! Is Alexandria great, or what?
To review, Alexandria's New Green Deal isn't new or green. I'm not even sure it's a "deal". It's just a thing. A socialist thing. And, historically speaking, socialist things always fail.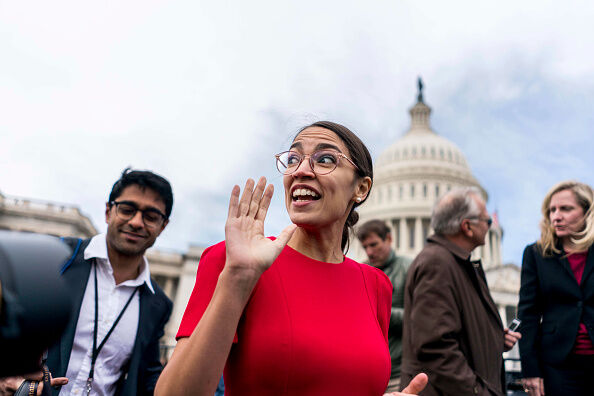 WASHINGTON, DC - On the US Capitol east front plaza 116th Congressional freshman Representatives, like Alexandria Ocasio-Cortez (D-NY), rush off after the Member-Elect class photo on the Capitol Hill in Washington, DC on Wednesday November 14, 2018. (Photo by Melina Mara/The Washington Post via Getty Images)

The Pursuit of Happiness
Ken Webster Jr is a talk radio personality and producer from Houston, TX. He started his career in Chicago on the Mancow show and has since worked at dozens of radio stations all over the country. He's currently the host of Pursuit of Happiness...
Read more