More Dead US Servicemen in Afghanistan a Brutal Reminder We Need To Leave
We need to get out of Afghanistan. Now.
There's not one single American life (except maybe Alec Baldwin) who's worth sacrificing to help the nation of Afghanistan, a country filled with people who hate us and don't want our help.
The Taliban is awful, yes, but they're willing to fight tooth and nail until they die for their country.
We'll never "Save" Afghanistan because the people we're trying to save don't want to saved.
We've spent trillions of dollars over a time period spanning the better part of two decades and we've made zero progress. Much like the Soviets and the Ottoman Empire, our occupation of Afghanistan will eventually destroy us.
I say all of that to tell you this: yesterday the Pentagon released the identities of three US servicemen killed in Afghanistan shortly after Thanksgiving weekend.
Army Capt. Andrew Patrick Ross of Lexington, Virginia; Army Sgt. 1st Class Eric Michael Emond of Brush Prairie, Washington; and Air Force Staff Sgt. Dylan J. Elchin, of Hookstown, Pennsylvania died in an attack in Afghanistan's central Ghazni Province, southwest of Kabul.
Imagine their family members spending Christmas without them. That's a cruel reality that's already setting in for their friends and loved ones.
It's easy for the average American to forget about these men, but their wives, parents and children never will.
Think about them when you're sitting down with your own loved ones this Christmas.
It's the least we can do.
Afghanistan, the place where empires go to die. It was the end of Alexander the Great's road of conquest. It was the end of the British Empire; it was the end of Russians in the 1980s.
We have spent trillions of dollars and thousands of lives in order to bring a 7th century AD country into the 7th century.
There is nothing there for us except rocks, backwards people, and opium poppies.
Leave it to the Taliban. Let them subjugate half of their populations. I no longer care.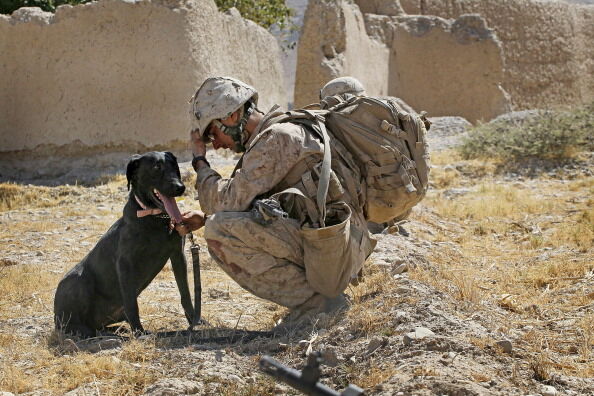 KAJAKI, AFGHANISTAN - OCTOBER 17: Marine Cpl. Jonathan Eckert of Oak Lawn, Illinois, attached to India Battery, 3rd Battalion, 12th Marine Regiment sits with his improvised explosive device (IED) sniffing dog Bee as he tries to cope with the death of a fellow Marine while waiting for a MEDEVAC helicopter to pick up the Marine's remains during a patrol near Forward Operating Base (FOB) Zeebrugge on October 17, 2010 in Kajaki, Afghanistan. Eckert was checking for IEDs with Cpl. Jorge Villarreal of San Antonio, Texas in advance of a small group of Marines when Villarreal stepped on an IED pressure plate and was killed. The Marines of India Battery, 3rd Battalion, 12th Marine Regiment are responsible for securing the area near the Kajaki Damn on the Helmand River. (Photo by Scott Olson/Getty Images)

The Pursuit of Happiness
Ken Webster Jr is a talk radio personality and producer from Houston, TX. He started his career in Chicago on the Mancow show and has since worked at dozens of radio stations all over the country. He's currently the host of Pursuit of Happiness...
Read more