NFL Alternative: Freedom Football league is Coming Soon
After a countless number of news stories about football players taking a knee (not to mention equally controversial news stories about football players beating women) a new pro football league is on the way. It's called the 'Freedom Football League,' and it's being launched by 50 former NFL players.
They want players to get the right kind of attention to their health, and to talk about important issues.
Players and season ticket holders will partially own the teams, and the games will be in the spring and summer.
They announced teams for 10 cities, but it's not clear when it'll actually launch.
Ricky Williams made the announcement on ESPN's "Outside the Lines".
Speaking of ESPN, Sports Center has decided they're going to stop being a progressive political propaganda mouth piece for the Democrat party and return to their roots: reporting on sports.
Sports Center's ratings took a hard nose dive after they started virtue-signalling about news stories associated with the BlackLivesMatter movement and the Women's March.
The fact that Sports Center had to announce they're going to stop being political, coupled with the news about the Freedom Football League, is proof positive that conservative patriotic people are sick and tired of the Leftist crap we've been getting from the sports industry over the last two or three years.
In other words: shut and play (and stop beating your wives and girlfriends).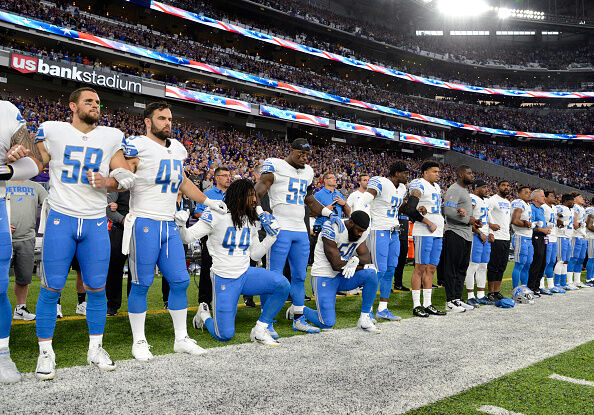 Photo of kneeling millionaires taken by Getty Images


The Pursuit of Happiness
Ken Webster Jr is a talk radio personality and producer from Houston, TX. He started his career in Chicago on the Mancow show and has since worked at dozens of radio stations all over the country. He's currently the host of Pursuit of Happiness...
Read more