U.S.Murder Rate Decreasing Under Trump, Says Report
The economy has thrived under Trump and now the murder rate is dropping too.
America's murder rate is on track for the largest one-year drop in five years, according to a new report from the NYTimes.
Based on a comparison of 2017 data and 2018 data for the 66 biggest cities in the US (population higher than 250,000), we can see a trend is occurring and offer a reasonable prediction.
The murder rate went up 23% between 2014 and 2016 (who was President then?) before leveling off in 2017 (after a law-and-order POTUS was elected).
Huge increase in craphole cities like Chicago and Baltimore got a lot of national attention, but an increase was scene throughout the country too.
However the murder has been down 7% on average this year compared to where we were at right now in 2017.
The point is, murder has gone down under Trump and the economy has improved while Obama's America was exactly the opposite.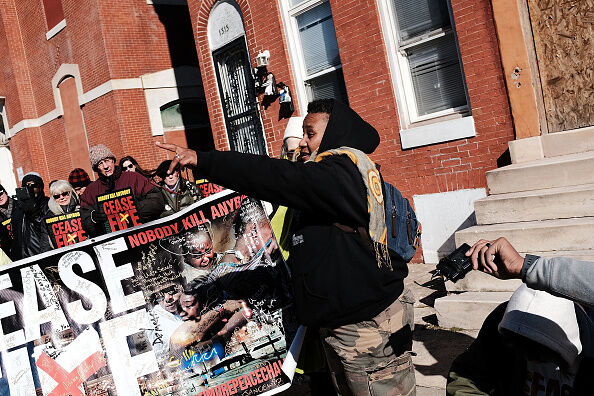 BALTIMORE, MD - FEBRUARY 03: Erricka Bridgeford, who recently lost her son to a murder, joins other activists, residents and those that have lost a loved one to violence for a 'Peace and Healing Walk' in an area with a high rate of homicides during Baltimore's third 'Ceasefire Weekend' on February 3, 2018 in Baltimore, Maryland. The walk stopped at numerous locations where an individual was recently murdered to say a prayer. Baltimore, one of the poorest major cities in the United States, experienced 341 homicides last year, the highest per-capita rate on record for the city. The third citywide Ceasefire event began on Friday, with organizers and community members calling for peace for a 72-hour period and holding numerous events, including peace walks, movie screenings and a youth basketball tournament among other gatherings. (Photo by Spencer Platt/Getty Images)

The Pursuit of Happiness
Ken Webster Jr is a talk radio personality and producer from Houston, TX. He started his career in Chicago on the Mancow show and has since worked at dozens of radio stations all over the country. He's currently the host of Pursuit of Happiness...
Read more