China is detaining Christians, claims Texas-based human rights group
Here's a short list of high profile people who recently disappeared in China: the head of INTERPOL, that genetic scientist who makes super babies & a famous Chinese photo-journalist who criticized Communism.
Considering what happens in China on a regular basis, this doesn't surprise us at all: a human rights group in Beijing claims the Chinese authorities have detained at least 80 Christians in a raid on a prominent church that operates outside the umbrella of the Beijing government's official Protestant organization.
A Texas-based group called ChinaAid claims the pastor of the Early Rain Covenant Church and his wife were detained with others in the southwestern city of Chengdu on Sunday night.
The Chinese government is not a big fan of independent church groups. The government requires Protestants worship only in churches recognized and regulated by the Three-Self Patriotic Movement.
The officially atheist ruling Communist Party has removed crosses from official and unofficial churches in recent years.
Many of those detained were seized from their homes overnight Sunday.
According to the report from the human rights group, the administration of President Xi Jinping is "deliberately making itself the enemy of universal values, such as religious freedom for all."
Millions of Chinese people identify as Protestant Christians. The religious movement has grown considerably in recent years despite the Communist Party's efforts to limit them. The number of Christians rival the number of people in the Communist ruling party, stands at about 90 million.
Pray for China.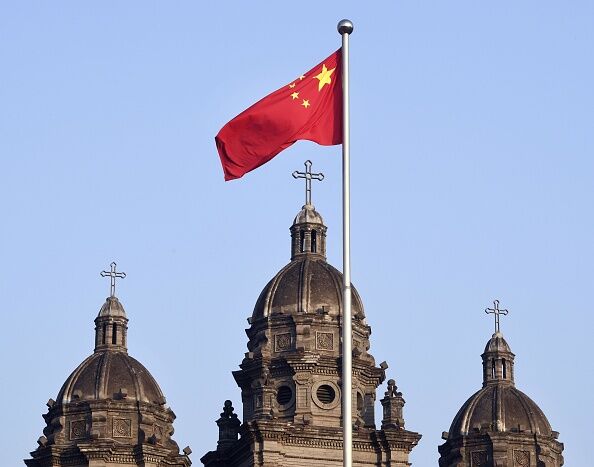 Photo taken Oct. 19, 2018, shows a Chinese flag against the background of a Catholic church in Beijing. (Kyodo) (Photo by Kyodo News via Getty Images)

The Pursuit of Happiness
Ken Webster Jr is a talk radio personality and producer from Houston, TX. He started his career in Chicago on the Mancow show and has since worked at dozens of radio stations all over the country. He's currently the host of Pursuit of Happiness...
Read more