Houston Mayor Dedicates Citywide Annual Holiday to CAIR-Texas
Mayor Sylvester Turner has declared December 9th as CAIR-Texas day in Houston.
For those who don't know, CAIR is the Council on American Islamic Relations. The group was founded in 1994 by three officials of the Islamic Association of Palestine which was later revealed to be a front for the terror group Hamas in the 2008 Holy Land Foundation terror financing trial.
They literally support and defend known terrorists and they're not big fans of Israel.
During the trial prosecutors said CAIR was an "unindicted coconspirator." They had a valid point.
CAIR appears to represent American Muslims, but the optics are not reality - the group commands very little support among America's moderate Muslim community.
The media portrays CAIR as the voice of American Muslims, but American Islam is extremely diverse and no single group represents the community as a whole.
CAIR doesn't speak for all Muslims anymore than Richard Spencer and David Duke speak for all white people.
Mayor Sylvester Turner dedicating an annual citywide holiday to CAIR-Texas is almost as head-scratching as the time he dedicated November 18th to gangster rapper Travis Scott.
Our mayor, who campaigned on the promise of fixing potholes (but hasn't), has a strange set of values.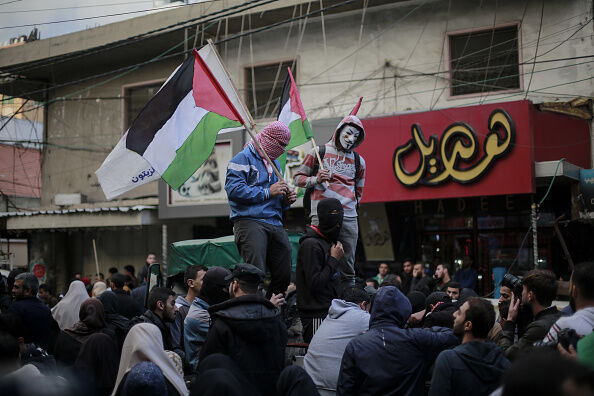 07 December 2018, Palestinian Territories, Gaza City: Masked Palestinian protesters wave the Palestinian flag during a protest against the US-drafted resolution which condemns the Palestinian movement Hamas for firing rockets into Israel. The UN General Assembly will vote on Thursday on the US-drafted resolution that condemns Hamas 'for repeatedly firing rockets into Israel and for inciting violence, thereby putting civilians at risk.' Photo: Mohammed Talatene/dpa (Photo by Mohammed Talatene/picture alliance via Getty Images)

The Pursuit of Happiness
Ken Webster Jr is a talk radio personality and producer from Houston, TX. He started his career in Chicago on the Mancow show and has since worked at dozens of radio stations all over the country. He's currently the host of Pursuit of Happiness...
Read more