Caravan Migrants Demand $50K Each From President Trump
Say, what's going on with the caravan (or caravans) today?
Well, yesterday Two groups of Central American migrants marched to the U.S. Consulate in Tijuana with a list of demands.
One group delivering an ultimatum to President Trump: either let them into our country or pay them $50,000 each to go home.
And that's not all! They also want all deportations to be halted and they think asylum seekers should be processed faster and in greater numbers.
The first group of about 100 caravan members arrived at the consulate around 11 in the morning.
Honduran caravan organizer Alfonso Guerreo Ulloa said the $50,000 figure was chosen as a group.
I gotta call shenanigans here, folks. Every year America gives Honduras about $127,408,601 in foreign aid. We also give $296,868,033 to Guatemala and $74,831,935 to El Salvador.
That's your money, US tax payers. You're the one who gives them the resources to pay that foreign to countries who we technically owe nothing to because they've done nothing for us.
But the demands of the caravan members get even crazier: a letter from the group criticized our nation's intervention in Central America (for paying them foreign aid?) and asked our political leaders to remove Honduran President Orlando Hernandez from office. They gave the consulate 72 hours to respond.
We have 72 hours to decide if we're gonna go to war with the President of Honduras? That's hilarious and not at all realistic.
Go home, caravan migrants. You're drunk.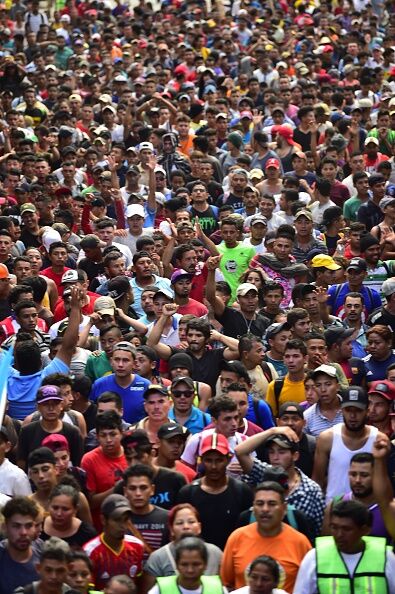 Honduran migrants heading in a caravan to the US, hold a demonstration demanding authorities to allow the rest of the group to cross, in Ciudad Hidalgo, Chiapas state, Mexico after crossing from Guatemala, on October 20, 2018. - Thousands of migrants who forced their way through Guatemala's northwestern border and flooded onto a bridge leading to Mexico, where riot police battled them back, on Saturday waited at the border in the hope of continuing their journey to the United States. (Photo by Pedro Pardo / AFP) (Photo credit should read PEDRO PARDO/AFP/Getty Images)

The Pursuit of Happiness
Ken Webster Jr is a talk radio personality and producer from Houston, TX. He started his career in Chicago on the Mancow show and has since worked at dozens of radio stations all over the country. He's currently the host of Pursuit of Happiness...
Read more