Alexandria Ocasio Cortez Takes a Break Before She Even Starts Working
Our favorite "It" Girl, also known as CongressCritter Barbie, Alexandria Ocasio Cortez, is kind of burned out, y'all. So, she's going to do something about it, and take us all along for the ride.
She's going to do "self-care" for a few days before her term starts on January 3rd. Because, you know, it's totes exhausting trying to sound smart and stuff on TV.
She tweeted on December 17th: "I'm taking a few days to take care of myself before what is sure to be an eventful term. For working people, immigrants, & the poor, self-care is political — not because we want it to be, but bc of the inevitable shaming of someone doing a face mask while financially stressed. So I've decided to take others along with me on IG as I learn what self-care even means and why it's important."
So, self-care is political. What does that even mean?
Are you telling me that the evenings that I have a glass of wine while having a bubble bath are political? Really? Shutting off the phone and watching Christmas movies on The Hallmark Channel is political?
What have we come to as a nation when a 29 year old bartender needs "self-care" before her term starts?
Apparently, Ms. Ocasio Cortez has a history of good self-care by doing yoga 3 times a week, making nutritious meals at home, spending time in mindfulness practice, and journaling. All that went by the wayside when she ran for Congress. She started eating fast food, not practicing her yoga, and falling asleep in her makeup! Quelle horreur!
In other words, the only time she ever really worked hard was when she was running for Congress. I can't tell you the number of times I fell asleep at my desk at midnight when I was a baby engineer.
But don't worry about Alexandra. She's gonna take us along for the ride to show you that she's not perfect, but that she's dedicated to helping her community. Leaders don't have to be perfect, they just have to be willing to start the revolution.
Except these millennials can't start a revolution right now, they're busy doing a tree pose and dreaming of wild caught salmon with quinoa.
Sandra Peterson
Follow me on Twitter @janevonmises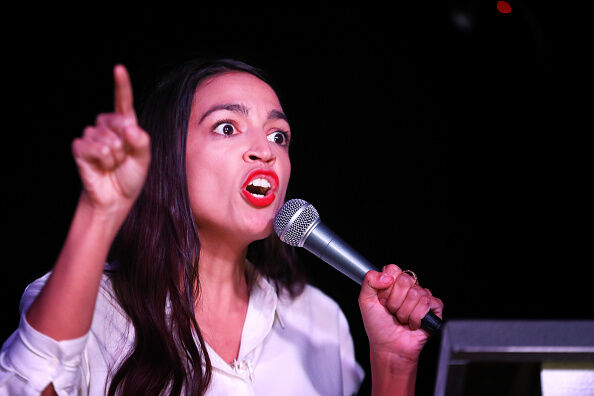 NEW YORK, NY - NOVEMBER 06: Alexandria Ocasio-Cortez addresses the crowd gathered at La Boom night club in Queens on November 6, 2018 in New York City. With her win against Republican Anthony Pappas, Ocasio-Cortez became the youngest woman elected to Congress. (Photo by Rick Loomis/Getty Images)

The Pursuit of Happiness
Ken Webster Jr is a talk radio personality and producer from Houston, TX. He started his career in Chicago on the Mancow show and has since worked at dozens of radio stations all over the country. He's currently the host of Pursuit of Happiness...
Read more