CNN Busted For Fake News Over TSA Story
Whenever you see "anonymous source" in a CNN article, that just means it's a made up story.
The Department of Homeland Security slammed CNN over a report that claimed Transportation Security Administration agents have staged a "sick out" because they are required to work during the government shutdown despite delay in receiving their paychecks.
Citing "two senior agency officials and three TSA employee union officials," CNN claimed "hundreds" of TSA agents at four major airports participated in a "sick out," a protest over having to wait to receive their paychecks.
But there's just no evidence to prove this is true.
DHS spokesman Tyler Houlton said CNN's report is "fake news."
He said on Twitter, "More #FakeNews from @CNN. Security operations at airports have not been impacted by a non-existent sick out. CNN has the cell numbers of multiple @TSA public affairs professionals, but rather than validate statistics, they grossly misrepresented them."
A spokesperson for the TSA said in a statement "security effectiveness will not be compromised and performance standards will not change" during the shutdown.
So CNN got caught reporting fake news again.
If you're keeping score at home, you've probably counted more fake news reports from CNN than most calculators can compute.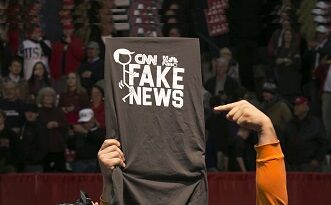 The Pursuit of Happiness
Ken Webster Jr is a talk radio personality and producer from Houston, TX. He started his career in Chicago on the Mancow show and has since worked at dozens of radio stations all over the country. He's currently the host of Pursuit of Happiness...
Read more