Tales of a Single Dad: Change
Joseph Scialabba is a single father from the Chicago area who unexpectedly lost the mother of his child to drug addiction. This blog post chronicles his experience with raising a female child alone in the 21st century.
-------------------------
Feeling stuck in a rut; are days in your life starting to seem like Groundhog Day? If you're stuck in life's spin cycle there's only generally one person to blame for it. If you're not sure who, take a walk to your bathroom and look in the mirror.
Yea we get it, change is hard, change is scary, the older we get the harder it is. Change can also be glorious, liberating, and life altering.
The year of 2018 was the year of change for me. It began with a job change, and ended with an entire industry career change. It is by far the scariest and most rewarding expedition I've embarked on as a single parent. I sat a few months ago and thought about what my future would hold in the current industry I was employed in and decided that I couldn't do it for another 30 years. I want to see my daughter grow up, and be there to see her prosper. I knew that would never happen as long as i remained in the auto industry.
When I was young my parents worked hours to provide for the 4 of us. My father was gone a lot, as I got older I could go weeks without seeing him as he was working to provide. It angered me as a child, but as I grew up I understood it was necessary to get us what we needed. When I became a parent i understood the sacrifices of my parents much better.
In the beginning of my child's life we were barely making ends meet. I'd walk holes in my shoes, go years between replacing clothes, so her and her mother could have what they needed. I still had been stuck in this mentality up until this past fall, when I realized that as we had rebuilt our lives after tragedy, I was still stuck earning the same sketchy living I had been for the last almost 15 years. I stopped and asked myself though, could i do anything else? Could I, at 38, learn something new? Let's be honest here, school board me to tears, I had the attention span of a potato, and was so used to being mistreated by employers i thought it was normal.
One sunny day in September I finally had enough. Not one thing in particular set it off, but the accumulation of frustration from years in an industry that will ride you like a thoroughbred and spit you out. I decided I had to at least try to change. So after some consul from my folks, i went back to school, did some state exams and switched over the insurance industry. It really is a night and day change.
I wanted my daughter to have it all, but I also want to be there to raise her. This was my catalyst, this was my spark, to go out and find a better path. There is one out there for all of us, it is scary, and it is uncertain, but I felt I owed it to my child and to myself to have to at least try.
I encourage everyone to get up and out there, go back to school, hit the gym, take a trip. Do that which scares you the most. Get out of your comfort zone and push yourself and the sky is the limit.
Make that New Year new me slogan your reality. You can do it.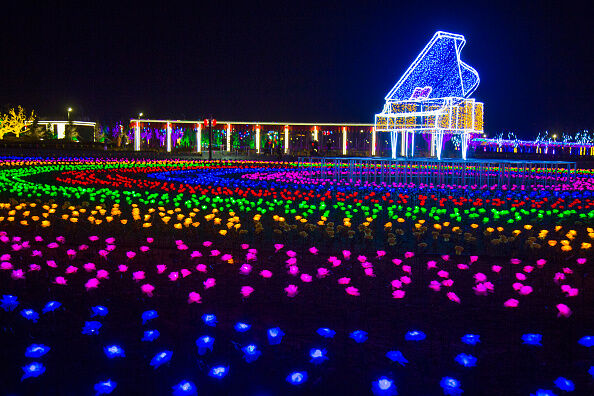 Various lanterns and lanterns create a strong Festival atmosphere, Shenyang, Liaoning Province, China, January 1, 2019. (Photo credit should read Zhang Peng / Barcroft Media via Getty Images)

The Pursuit of Happiness
Ken Webster Jr is a talk radio personality and producer from Houston, TX. He started his career in Chicago on the Mancow show and has since worked at dozens of radio stations all over the country. He's currently the host of Pursuit of Happiness...
Read more