Julian "Misspend Tax Money" Castro is running for POTUS
Back in early 2017, after Ben Carson took over the Dept of Housing & Urban Development, a report was released stating there had been over $500 billion in misspending and accounting errors during the previous administration's tenure.
Good lord, that's a lotta money! Who was running the ship during that time?
Short answer: Obama. Longer answer: Obama and Julián Castro, the Texas Democrat who just announced a Presidential campaign run for 2020.
Last weekend San Antonio's Julián Castro officially announced his run for president in 2020.
His policy positions are exactly as you'd expect: streamline immigration, higher minimum wages, Trump is bad, spend more money, & stop the evil oil companies. He's not exactly unique from the people he's challenging for the 2020 Dem POTUS nomination.
Castro served as Obama's Housing and Urban Development (HUD) secretary from 2014 - 2017. Before that he was the mayor of San Antonio, Texas.
If Castro wins (and he won't) you can expect a lot more misspent government money to raise eyebrows. Misspending money is kind of his thing. He did it when he was Secretary of HUD and Mayor of San Antonio.
Back in 2014 Politico ran a story about how San Antonio failed to properly spend funds approved by Congress to combat the housing crisis under Castro's leadership. The irony that Obama would choose someone with that kind of track record to be his HUD Secretary is nothing short of laughable.
At the time San Antonio was given $8.6 million from HUD in 2008 from the national Neighborhood Stabilization Program.
The city was supposed to use the money to buy, refurbish and resell homes left vacant after eviction and renovate large apartment complexes in the city for lower-income tenants.
When HUD IG audited how the money was spent from 2009 to 2011 they discovered that city officials ha awarded $2.5 million in renovation contracts without a competitive bidding process. Castro was in charge at the time and this is just textbook cronyism.
The report also discovered the city misused $1.1 million when renovating properties because some of the properties were not put toward housing lower-income families, which is what HUD required in exchange for the money.
In short, Julián Castro is a thief and a liar with a history of misspending billions of tax payer dollars.
And now he wants to be POTUS.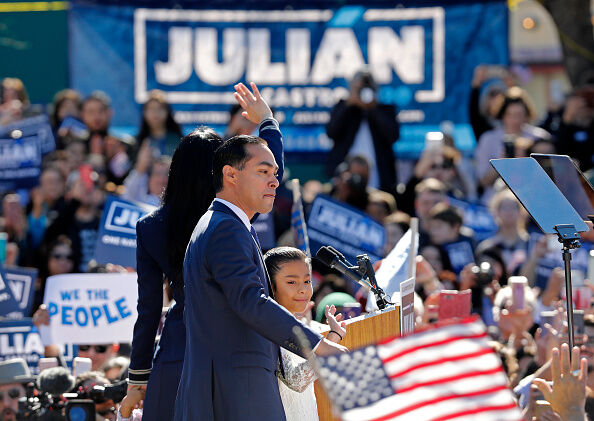 SAN ANTONIO, TX - JANUARY 12: Julian Castro, former U.S. Department of Housing and Urban Development (HUD) Secretary and San Antonio Mayor, with his daughter Carina Castro waves to supporters before announcing his candidacy for president in 2020, at Plaza Guadalupe on January 12, 2019 in San Antonio, Texas. If successful, Castro would be the first Hispanic candidate to win the White House. (Photo by Edward A. Ornelas/Getty Images)

The Pursuit of Happiness
Ken Webster Jr is a talk radio personality and producer from Houston, TX. He started his career in Chicago on the Mancow show and has since worked at dozens of radio stations all over the country. He's currently the host of Pursuit of Happiness...
Read more