Things Dems Would Rather Fund Instead of the Wall
We're now on day 24 of the government shutdown - the longest running government shutdown in American history.
While the Dems spent the weekend in Puerto Rico yuckin' it up with multi-millionaire lobbyists on a tropical musical theater retreat, independent researcher Caleb Hull highlighted some of the things they're willing to fund before they spend $5 billion on border security.
$3,000,000 for World of Warcraft: tax $ funded UC Irvine researchers' screen time
$800,000 on studying significance of genital-washing
$2,500,000 on a Super Bowl commercial that was so terribly produced that it was banned after it aired
$1,000,000 on Zoo Poetry: "increasing environmental awareness" by creating poetry in four different zoos
$175,000,000 on buildings that have been vacant for years
$765,828 on pancakes: tax dollars subsidized an IHOP in an "under-served" area of DC
$442,340 studying behavior of male prostitutes in Vietnam $168,766 studying monkeys who throw their poop
$914,000 studying romance novels: topics included "Team Edward or Jacob?"
$5,000,000 studying the drinking habits of college students on game days
$5,000,000 on hipster parties with the goal of ending smoking
$2,000,000 for the Department of Agriculture to fund an internship program. The program hired ONE full-time intern.
$120,000,000 paid to dead federal employees
$2,600,000 to encourage Chinese prostitutes to drink responsibly
$505,000 to promote specialty hair and beauty products for cats and dogs
$27,000,000 to teach Moroccans how to make pottery
$300,000 to encourage Americans to consume caviar made in Idaho
$200,000 on a "tattoo removal program" in CA
$60,000 for the IRS to create a parody film of Star Trek and Gilligan's Island
$1M per year for NASA to create food menu for Mars mission that is decades away
$202,000 to determine if Wikipedia is sexist
$242,600 to study effects of cocaine on honey bees
$4,900,000 to dress students up in fruit costumes and encourage them to eat healthy
$495,000 on commercials to create jobs that never created any jobs
$250M training 60 Syrian rebels to fight the Islamic State
$10M on creating two video games aimed at fighting obesity (FOR REAL)
$900,000 studying social interactions of guppies
$6.3M for VA facility in California to buy artwork
$10M to studying dog tail wagging
$325,000 to build a robot squirrel
$2.5M on coasters for bars that say "IF YOU SEE SOMETHING, SAY SOMETHING"
$31M on first class flights in 4 years for the Department of Health and Human Services alone
$1.3M studying effectiveness of koozies keeping drinks cold
$100M to clean up environmental mess that Environmental Protection Agency created
$387,000 studying the effect of Swedish massages on rabbits
$5M on tweeting responses to pro-ISIS rhetoric
$3M researching why lesbians are more likely to be obese than straight people
$516,000 on a video game about prom
$706,800 to have shrimp fight each other with the goal of helping military and manufacturing engineers
$26M building religious sites across the globe
This list was originally compiled by Caleb Hull of Targeted Victory.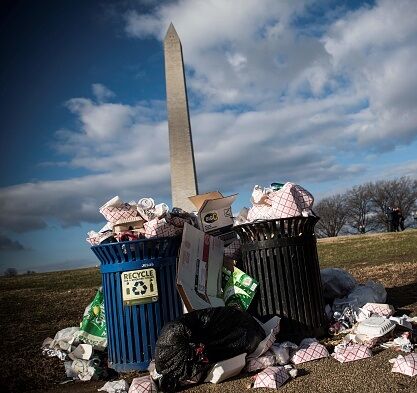 Litter spills out of a public dustbin next to the Washington Monument on the National Mall in Washington DC on December 24, 2018. - US lawmakers headed home for Christmas leaving the government partially shut for a third day in an impasse over President Donald Trump's demand for border wall funding. More than 400,000 federal employees are reporting to their jobs on Monday but won't get their salaries, while nearly 400,000 others 'will be locked out of work with no pay,' the American Federation of Government Employees union said. (Photo by Eric BARADAT / AFP) (Photo credit should read ERIC BARADAT/AFP/Getty Images)

The Pursuit of Happiness
Ken Webster Jr is a talk radio personality and producer from Houston, TX. He started his career in Chicago on the Mancow show and has since worked at dozens of radio stations all over the country. He's currently the host of Pursuit of Happiness...
Read more