Tales of a Single Father: the Call
Joseph Scialabba is a single father from the Chicago area who unexpectedly lost the mother of his child to drug addiction. This blog post chronicles his experience with raising a female child alone in the 21st century.
------

They come with striking regularity these days. My unadvertised services, day and night they come, and it seems they are all the more frequent. I have no formal training, no degree from a university, just one I earned on the street, that's where i got my bones on the matter; an education on matters of loss, of lives destroyed by addiction and chaos.
The calls they come, can you help me, my sister, my brother, my lover or themselves, are struggling. What can I do, I answer the calls, I steer them to services, to the professionals and doctors that will hopefully patch together their lives and get them back on their feet. We pray, and we hope, but the honest truth is we need to do more, much more as a society to stop this madness.
I started my holiday season this year offering counsel to a family that was in our shoes. A young father was dead, barely weeks or so before the holidays begin, a mother now on her own cast to the wind, with a small daughter, same age as mine was when her mom died. It was a scene I've become all too familiar with, a dark fraternity that we are now bonded in, a cursed passage that tens of thousands are waking up to every year.
I offer condolences of course, but I never ask how they are, I already know. You haven't slept or ate, you're in shock, your normal family dream is over, your planned future is a fire, and you have to figure out how to tell a child their parents gone forever. I never ask how they are doing, because we lived it. You tell them what you know, what to expect, and how to cope as best you can relay. Often times after some discussion we express some form of relief that it's over. It's weird if you haven't lived it to hear I'm sure. The truth of it is, out of the couple hundred I've counseled in the last two years. That is the most common thread between all that end up losing their remaining loved ones battles; relief.
They aren't happy their loved ones gone. They are relieved they aren't in pain, that the struggle, the utter chaos, the constant sickening worry is over. They don't have to wonder or wait for the call anymore, it may be the worst day of their lives, but it is a new beginning, free.
They will tell you that time will relieve the pain; the truth is that we just learn to live with it. A smell, a special date, a picture brings it all flooding back. For those who lost someone we share children with, we have a daily walking talking reminder for the rest of our lives. The true victims are the generation of kids, growing up missing parents and siblings, raised by the system, their grandparents or relatives, because their parents are dead.
The real crisis is on our streets, not the border. It's in our medicine cabinets, and the back offices of doctors. The opioid crisis is a wildfire that continues to grow, possibly on pace to consume a hundred thousand souls this very year alone. It will not go away until we challenge ourselves to look within, help our loved ones struggling, and demand better and more available mental healthcare and substance treatment. This is a battle we can win.
In the meantime, I gotta go, my phone keeps ringing.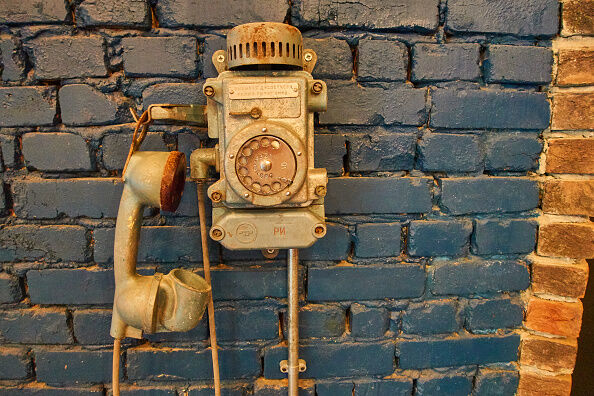 TBILISI, GEORGIA - AUGUST 14: Old fashioned Dial Telephone from Soviet Times as an Art Object at Stamba Hotel on August 14, 2018 in Tbilisi, Georgia. (Photo by EyesWideOpen/Getty Images)

The Pursuit of Happiness
Ken Webster Jr is a talk radio personality and producer from Houston, TX. He started his career in Chicago on the Mancow show and has since worked at dozens of radio stations all over the country. He's currently the host of Pursuit of Happiness...
Read more