Dan Crenshaw Fact-Checks Liberals On Border Security
Here's Houston's best Congressional Rep correcting the lies you've been told about our border wall by Democrats.
Dan says:
First, what is the President's actual proposal? I can tell you it's NOT a 2,000 mile wall. In reality, it is a holistic, reasonable plan drafted by security experts:

234 miles of physical barrier
$800M for humanitarian and medical assistance-More Law Enforcement officers
Counter-drug technology at points of entry
More Immigration Judges-Better and more spacious detention facilities


Today, Democrats refused to come to a meeting on border security at the White House. They will not come to the table and negotiate.

They cannot articulate a reason why physical barriers should not be included, except to dismiss the idea as "medieval."
Once again, Dan is right. Considering how reasonable the border security proposal actually looks when you see it laid out on paper, it's hard to believe Democrats are against this idea.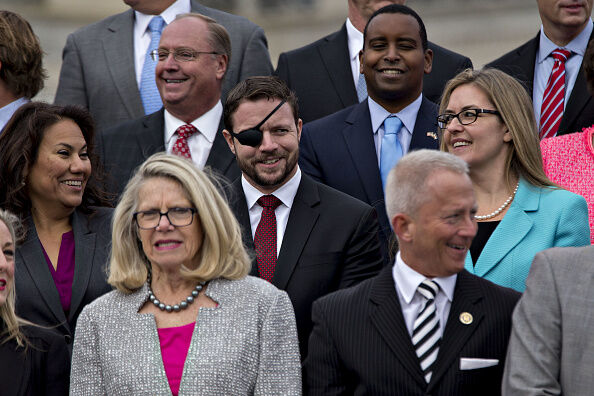 Representative-elect Dan Crenshaw, a Republican from Texas, center, and Representative-elect Jennifer Wexton, a Democrat from Virginia, right, wait for a group photo with the 116th Congress outside the U.S Capitol in Washington, D.C., U.S., on Wednesday, Nov. 14, 2018. Congress returns to work this week with Democrats and Republicans promising to work together to avert a partial government shutdown and pass a handful of other bills, though President Donald Trumps demand to fund his border wall could blow up their plans. Photographer: Andrew Harrer/Bloomberg via Getty Images

The Pursuit of Happiness
Ken Webster Jr is a talk radio personality and producer from Houston, TX. He started his career in Chicago on the Mancow show and has since worked at dozens of radio stations all over the country. He's currently the host of Pursuit of Happiness...
Read more