Dems Skip Meeting to End Shutdown: They Don't Care About Gov't Workers
Stop blaming the Republicans for the government shutdown - this mess is owned entirely by the Dems (and I say that as someone who doesn't mind when the government is shutdown).
Case in point - yesterday President Trump invited Democrat leadership to lunch at the White House to make a deal that would essentially end the government shutdown.
The Democrats didn't go. They don't care.
How can we make a deal to end the shutdown if Democrats aren't even willing to negotiate?
Rep. Hakeem Jeffries, chairman of the House Democratic Caucus, said, "Is he inviting people to 1600 Pennsylvania Avenue to really try to solve this problem or to create a photo op to project a false sense of bipartisanship?"
The answer is probably both. Even still, you can't negotiate a deal if you won't even meet with each other.
Here's a reality check for the Democrats: the vast majority of people affected by the government shutdown (government workers) are Democrats. Very few Republicans are worried about how to get their paychecks right now. Trump's core constituents don't have office jobs in Washington DC. Those people voted for Hillary. The evidence is very clear: the government shutdown will hurt the Democrats much more than it will hurt the GOP. Sorry, liberals, but you made your bed and now you have to lie in it (without a paycheck).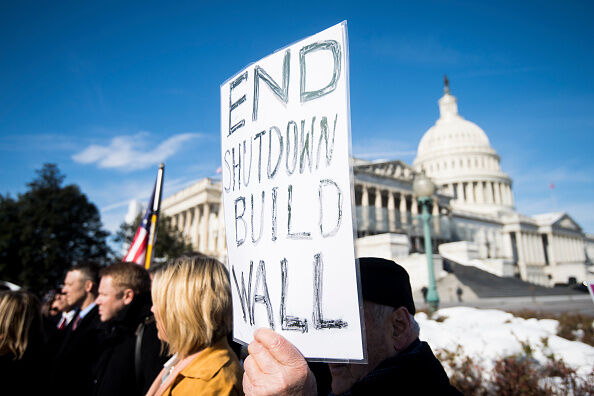 UNITED STATES - JANUARY 15: A man holds a 'end the shutdown build wall' sign as Rep. Louie Gohmert, R-Texas, holds a news conference on border security outside of the Capitol on Tuesday, Jan. 15, 2019. (Photo By Getty Images)

The Pursuit of Happiness
Ken Webster Jr is a talk radio personality and producer from Houston, TX. He started his career in Chicago on the Mancow show and has since worked at dozens of radio stations all over the country. He's currently the host of Pursuit of Happiness...
Read more