Sorry, Socialists, But Robots Can Clean Grocery Stores Too
Remember 'Fight for 105'? It was the war cry of the socialist labor movement back during the Obama era.
All around the country professional activists from SEIU (Service Employees International Union) stood outside of fast food restaurants demanding higher wagers.
Absent from any of those protests were actual fast food workers. I should know - I attended dozens of Fight for 15 protests and I never met a single person who actually worked at a fast food restaurant.
The Fight for 15 movement continues today. Bernie Sanders recently proposed a bill that would raise the federal minimum wage to $15.

The problem with raising the mandatory minimum wage is obvious: not all labor is worth that much money. If you're paying a high school kid to hang out at an ice cream stand near a little league baseball park, you probably don't have the budget to pay that kid $150 a day when your gross income barely covers the cost of inventory.
But what if you didn't have to pay the high school kid at all? What if you could use a robot to operate your ice cream booth? What if the robot could sell the product, clean the store and lock up at the end of the day? The robot never spits in your food, talks back to the customers or shows up late. The robot has never once miscalculated the total amount of money in the register at the end of a shift.
That "what if" is now a reality.

A grocery store chain in Pennsylvania called Giant is adding robot assistants at all 172 locations. They roam around the store, scanning shelves to see what needs to be restocked, and checking the floor for spills. They tested one robot back in 2017 and the manager had only good things to say about it.
Robots working in grocery stores is nothing new. You've probably been using the self-checkout lane for years. Yes, technically that's a robot. But now robots can do more than just ring up your groceries. They can stock the shelves and clean the floors too. There's even a company in England experimenting with a robot delivery service.

These robots might not be cheap today, but someday they will be. Do you remember how much you paid for your first flat screen TV back in the early 2000s? You probably gave the sales guy at Best Buy a four-figure dollar amount. Today flat screen TVs are as much as 90% cheaper than they were when they first hit the market and now they have dozens of new features.

Technology is a socialist's worst enemy. It's not that the future won't have room for manual labor; of course it will. But when the cost of a robot is drastically lower than the cost of a pimply-faced teenager (or an immigrant who can't speak our native language) why shouldn't small business owners turn to technology as an alternative? The socialists are giving them no other choice.
So go ahead, socialists. Fight for $15. Fine. But the only thing you're fighting for is longer unemployment lines.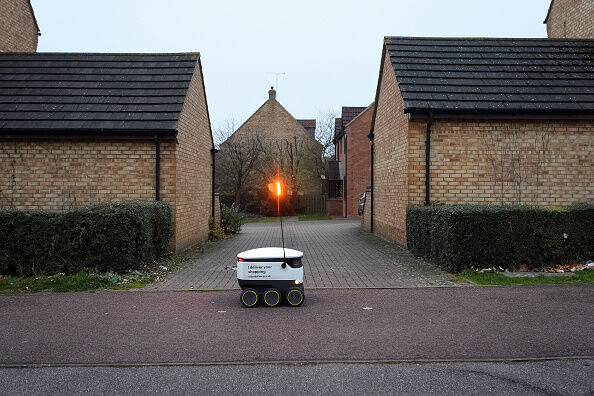 MILTON KEYNES, ENGLAND - NOVEMBER 23: A delivery robot travels along a pavement as it makes a home delivery of groceries from the Co-op food store on November 23, 2018 in Milton Keynes, England. Created by two of the co-founders of Skype in 2014, Starship has developed the self-driving pods to carry out a number of logistical tasks, with the ability to travel up to three miles, avoiding obstacles and negotiating roads and people as they move. The company claims that the robots have travelled over 100,000 miles in tests at sites across the world. (Photo by Leon Neal/Getty Images)

The Pursuit of Happiness
Ken Webster Jr is a talk radio personality and producer from Houston, TX. He started his career in Chicago on the Mancow show and has since worked at dozens of radio stations all over the country. He's currently the host of Pursuit of Happiness...
Read more