Warren's "Wealth Tax" Was Disastrous When They Tried it in France
Senator Elizabeth Warren says she wants a 'wealth tax' - an increased income tax for America's top earners.
Say, that reminds me. Let's think about that while we look at this headline from 2017, shall we?...
Wealth tax is forcing 12,000 millionaires PER YEAR out of France, says Prime Minister
Oh, you mean super rich people have the spending power to pick up their entire life and move to a different country? Imagine that. Tell us more?
Last year alone, 12,000 millionaires emigrated from France - the highest outflux in the world.
Wow! 12,000 rich people took their money and left the country? A reasonable person could only imagine how much that must have hurt the economy.
The annual millionaire's migration report by New World Wealth found that around 10,000 millionaires left France for other countries in 2015.
It sounds like France, a country that's now riddled with riots and protests over a gas tax, took a big hit when they launched their wealth tax. But how has the French tax system affected people who don't have enough money to pick up and leave?
Macron's new tax laws have caused outrage in some areas of France, with thousands of pensioners taking to the streets to protest new tariffs.
Ok, so the taxes hurt the working class pretty hard too. How much did it cost?
Around eight million pensioners on more than 1,200 euros a month will pay higher social security contributions next year.
Good lord! That's a lotta money for middle class working schlubs who don't have the resources to pack up and move to the Bahamas. After the wealthy folks took off, socialist-leaning leaders like France's Emmanuel Macron tried to tax the middle class, with explosively disastrous results.
France and Venezuela have a lot in common right now: working class people are rioting in the streets over the thought of giving their hard earned money to the government. But it didn't just start with the government coming for the middle class. First they tried to tax the rich. It's a slippery slope. These incidents have been getting around-the-clock cover on international cable TV news-networks, which begs the question: do you think Senator Elizabeth Warren watches the news?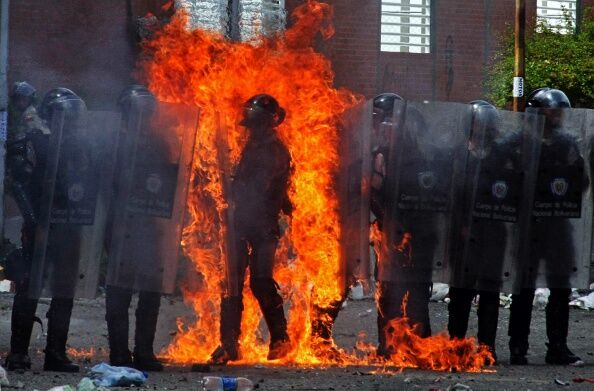 A riot policeman is set on fire by a Molotov cocktail thrown by a small group of anti-government protesters during clashes in San Cristobal, Venezuela on August 25, 2014. The demonstrators protested against the control of the fingerprints to buy food, the raise in the public transportation costs, the lack of safety, the shortage of goods and the closure of the border with Colombia, among other things. AFP PHOTO/GEORGE CASTELLANOS (Photo credit should read George CASTELLANOS/AFP/Getty Images)

The Pursuit of Happiness
Ken Webster Jr is a talk radio personality and producer from Houston, TX. He started his career in Chicago on the Mancow show and has since worked at dozens of radio stations all over the country. He's currently the host of Pursuit of Happiness...
Read more