Virginia's Attorney General Also Wore Blackface
Folks, I just wanna say - my college experience was remarkably different from what the politicians of Virginia seemed to be doing when they were of that age.
Virginia Attorney General Mark Herring has now admitted he also wore blackface during a college party in 1980. This is just one more political bombshell from Richmond as the state's embattled governor and lieutenant governor also find themselves knee-deep in insane scandals.
In a statement on Wednesday, Herring, a proud Democrat, said he wore brown makeup and a wig in 1980 to look like a black rapper during a party as an undergraduate at the University of Virginia.
Dressing like a "black rapper" in 1980 sounds like a flattering way of saying "gang banger" or "low income black person" because in 1980 rap music wasn't yet mainstream.  He was either dressing like the Sugarhill Gang or Kurtis Blow and something tells me those weren't recording artists in Herring's playlist. 
Anyway, Herring says, "In 1980, when I was a 19-year-old undergraduate in college, some friends suggested we attend a party dressed like rappers we listened to at the time, like Kurtis Blow, and perform a song. It sounds ridiculous even now writing it. But because of our ignorance and glib attitudes – and because we did not have an appreciation for the experiences and perspectives of others – we dressed up and put on wigs and brown makeup."
The revelation was just one more scandal to rock the top levels of Virginia government.
Virginia Gov. Ralph "Moonwalker" Northam and Lt. Gov. Justin "2006 was a long time ago" Fairfax already face separate scandals involving a blackfaced yearbook photo and sexual assault allegation. WTF is going on in Virginia!?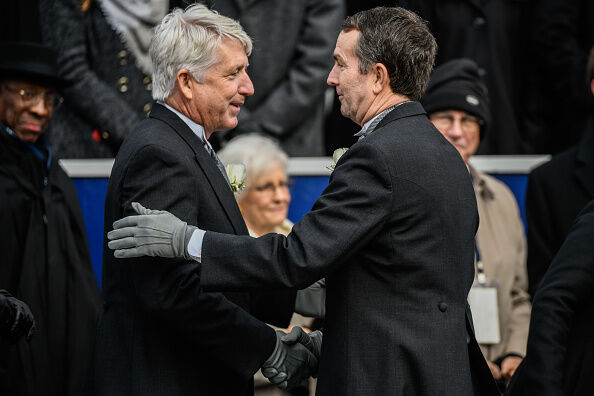 The Pursuit of Happiness
Ken Webster Jr is a talk radio personality and producer from Houston, TX. He started his career in Chicago on the Mancow show and has since worked at dozens of radio stations all over the country. He's currently the host of Pursuit of Happiness...
Read more