Supreme Court Blocks Louisiana's Abortion Restriction Law
The Left sure does love eugenics.
If you live in Louisiana and you seek to prevent unborn babies from being murdered, the Supreme Court is not on your side.
On Thursday the Supreme Court temporarily blocked a Louisiana law that places restrictions on abortion clinics. Louisiana wanted real doctors with access to hospitals to perform abortions but the Left didn't agree.
This was the high court's second major ruling on abortion since the confirmation of Associate Justice Brett Kavanaugh who voted with Ruth Bader Ginsubrg last fall to continue funding Planned Parenthood in states that objected to the organization selling fetal issue. However, this time Kavanaugh voted with conservative Justices like Neil Gorsuch.
Chief Justice John Roberts, who was appointed by George W., joined the liberal wing of the court to stop the measure.  Roberts the same guy who helped give us Obamacare.
The Louisiana law is very similar to a Texas law that the justices shut down three years ago.
Sorry, Louisiana, but SCOTUS doesn't care about vulnerable unborn lives in Cajun Country. 
While we're on the subject, there's nothing in the Constitution about a woman's right to perform an abortion. Roe v. Wade was never Constitutional and this is just one more example of people politicking from the judge's bench.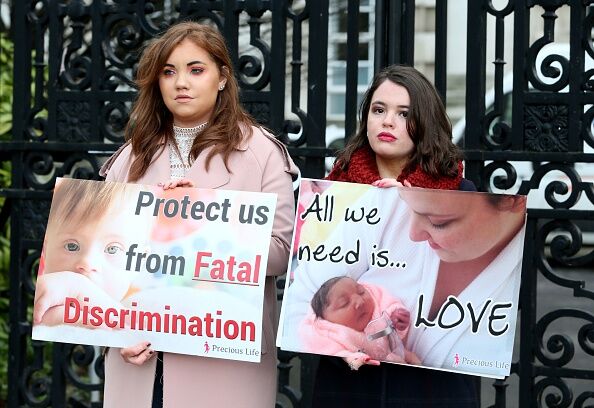 Pro-life, anti-abortion activists hold placards as they protest outside of Belfast High court in Belfast, on January 30, 2019, where Northern Ireland resident and campaigner Sarah Ewart, who after having been diagnosed with a fatal foetal abnormality in 2013 travelled to England for a termination, is a bringing a legal challenge against Northern Ireland's restrictive abortion laws. - Britain's Supreme Court, the highest court in the United Kingdom, said on June 7, 2018 that it could not rule on an appeal against Northern Ireland's strict abortion laws, but that it would have declared them incompatible with human rights laws otherwise. By a majority decision, the justices said that the Northern Ireland Human Rights Commission (NIHRC), which brought the appeal, did not have the power to 'institute abstract proceedings of this nature'. (Photo by Paul FAITH / AFP) (Photo credit should read PAUL FAITH/AFP/Getty Images)

The Pursuit of Happiness
Ken Webster Jr is a talk radio personality and producer from Houston, TX. He started his career in Chicago on the Mancow show and has since worked at dozens of radio stations all over the country. He's currently the host of Pursuit of Happiness...
Read more