Cops Reject Jussie Smollett's Incomplete Phone Records
The controversy surrounding the alleged attack of Empire TV star Jussie Smollett continues to evolve.
Phone records provided by Jussie Smollett to police investigators to corroborate his story have been rejected by the Chicago Police Department.
A spokesperson for the CPD claims the records are "limited and redacted," making them insufficient for a criminal investigation.
Smollett handed over phone records 13 days after his purported attack. The event occurred shortly after a report was released by The Post suggesting he may be hiding something.
Chicago Police Spokesperson Anthony Guglielmi said, "We need something a little more concrete and direct if we're going to be able to say for a fact the conversation occurred."
He continued, "We don't believe this is the case at all but when anyone hands over a redacted and limited record like a PDF of a phone bill for example, those records could be manipulated. We don't believe they are but we have to be able to hold up to the standards of a criminal court… [the records] don't meet the burden for a criminal investigation."
Smollett told investigators he was on a phone call with his manager during the attack on Jan. 29.
Smollett claims he was called "f—-t" and "n—-r" and heard the words "this is MAGA country", shouted by his attackers.
Smollett's manager, Brandon Z Moore, says he overheard those remarks made during the phone call and police want phone records to support this claim.
Meanwhile Smollett's neighbor, Agin Muhammad, told the Post, "I don't believe it happened the way he said it did."
Another nearby resident and patron of Lizzie McNeill's Irish Pub, a bar located about a block from the alleged attack, said Smollett's story "doesn't really make sense."
So far police have found no surveillance video that captures the incident.
Whether you believe Jussie or not, here are some questions we're still trying to answer:
Why were homophobic white supremacists walking around at 2 in the morning during the polar vortex (-30 degree temperatures) with a bottle of bleach and rope? How did the attackers know Jussie Smollett would be there if he claims he was just walking to go get a sandwich at a local Subway?Why won't Jussie hand over his phone records?Similarly, why won't the manager handover his phone records? Where did the attackers go after the incident took place?Why isn't there any video footage to corroborate this story?
While we still don't know exactly what happened, one thing is for sure - something about this story stinks.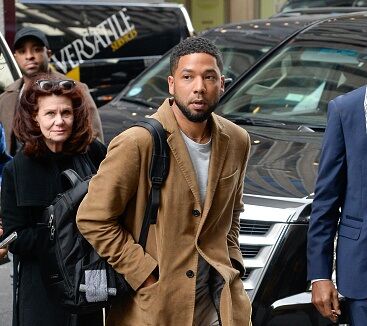 Photo of suspicious celebrity by Getty Images

The Pursuit of Happiness
Ken Webster Jr is a talk radio personality and producer from Houston, TX. He started his career in Chicago on the Mancow show and has since worked at dozens of radio stations all over the country. He's currently the host of Pursuit of Happiness...
Read more