Rep Omar Apologizes For Antisemitic Comments
Well, that was quick.
In just a few short days Rep. Ilhan Omar (D-Minn.) went from sounding like a member of the Third Reich to a full-on apology to the Jewish community. 
The Sharia-friendly Congresswoman apologized Monday for suggesting that people only support Israel because they're being paid off by wealthy Jews.
However, this was one of those fake apologies. Even though she said she was sorry she still insisted there was a "problematic role of lobbyists in our politics."
"My intention is never to offend my constituents or Jewish Americans as a whole. We have to always be willing to step back and think through criticism, just as I expect people to hear me when others attack me for my identity. This is why I unequivocally apologize."
"At the same time I reaffirm the problematic role of lobbyists in our politics, whether it be AIPAC [the American Israel Public Affairs Committee], the [National Rifle Association] or the fossil fuel industry. It's gone on too long and we must be willing to address it."
Omar upset members of both parties after she tweeted Sunday evening that AIPAC has been paying members of Congress to support Israel.
On Monday House Speaker Nancy Pelosi, D-Calif. ordered Omar to apologize, saying "her use of anti-Semitic tropes and prejudicial accusations about Israel's supporters is deeply offensive."
Rep. Eliot Engel, D-N.Y. said it was "shocking to hear a Member of Congress invoke the anti-Semitic trope of 'Jewish money.'"
Judiciary Committee Chairman Jerrold Nadler, D-N.Y. said the comments were "deeply disappointing and disturbing."
Nadler said, "Her words are deeply hurtful and offensive, particularly as they build on a previous comment she made [in 2012] about Jews 'hypnotizing' the world in support of Israel -- another old trope born of hate-filled texts like the Protocols of the Elders of Zion... In this fragile moment in our nation's history, we must all redouble our efforts to engage in policy debates in ways that respect the dignity and humanity of all people."
Omar apologized last month for posting the tweet referenced by Nadler, which read: "Israel has hypnotized the world, may Allah awaken the people and help them see the evil doings of Israel. #Gaza #Palestine#Israel."
As of Monday afternoon, the antisemitic tweets are still posted on Omar's Twitter page.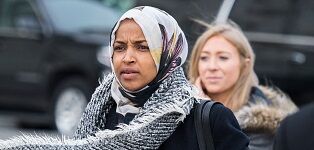 The Pursuit of Happiness
Ken Webster Jr is a talk radio personality and producer from Houston, TX. He started his career in Chicago on the Mancow show and has since worked at dozens of radio stations all over the country. He's currently the host of Pursuit of Happiness...
Read more