Texas: Trump Mocks Beto's Tiny Rally (video)
President Trump had a rally last night in El Paso, Texas while possible 2020 contender Beto O'Rourke held a border wall protest roughly a half-mile away.
In case you're wondering how it went, Trump's rally had over 30,000 people and Beto's only had a couple hundred.
Trump took notice. 
He told the crowd at his rally, "He challenged us. So we have let's say 35,000 people tonight. And he has 200 people, 300 people. Not too good."
Trump also made fun of Beto's nickname.
The President said, "He has very little going for him except he has a great first name."
Love him or hate him, he's right - Trump's event was way bigger than Beto's.  
In recent months Beto went from being the Democrat's favorite pick to a punching bag for CNN and Washington Post op-ed writers.  This guy's popularity diminished very quickly. Maybe he'll get lucky and Kamala Harris will ask him to be her running mate?
Then again, maybe not.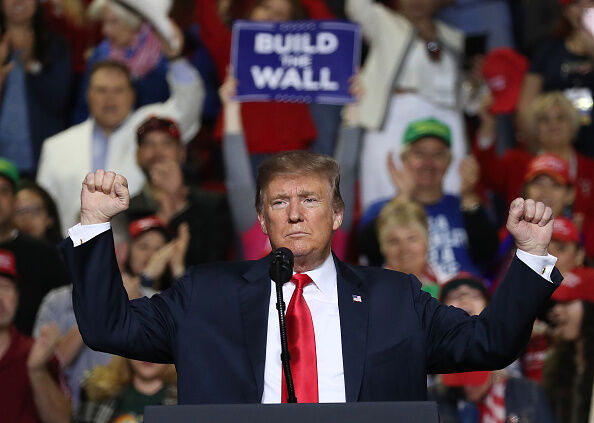 EL PASO, TEXAS - FEBRUARY 11: U.S. President Donald Trump speaks during a rally at the El Paso County Coliseum on February 11, 2019 in El Paso, Texas. Trump continues his campaign for a wall to be built along the border as the Democrats in Congress are asking for other border security measures. (Photo by Joe Raedle/Getty Images)

The Pursuit of Happiness
Ken Webster Jr is a talk radio personality and producer from Houston, TX. He started his career in Chicago on the Mancow show and has since worked at dozens of radio stations all over the country. He's currently the host of Pursuit of Happiness...
Read more