Border Wall Construction Currently Happening in Texas
Well, he kept his promise.On Monday President Trump told rally attendees in El Paso, "We've actually started a big, big portion of the wall today at a very important location, and it's going to go up pretty quickly over the next nine months."
This was a bold statement to make, particularly because most people didn't know the border wall construction had begun. Was it true or was he just trying to convince supporters he hadn't failed at keeping a central promise of his campaign?
Agents at the Rio Grande Valley border sector have confirmed that a wall is being constructed as we speak, according to a new report by the Washington Examiner.
The current project includes six miles-worth of concrete and steel barrier. Additionally, the wall is being supplemented by "detection technology, lighting, video surveillance, and an all-weather patrol road parallel" to the barrier.
In case you're wondering how we got the funding for this project, the $145 million needed for its construction was included in U.S. Customs and Border Protection's budget for fiscal year 2018.
In other words, Trump is keeping his promise. It's a not a wall that spans from San Diego to Brownsville, but that was never the plan anyway. There are porous places along our border where human trafficking and drug smuggling are common place. These regions of the border would benefit greatly from a barrier.Similarly, other places along our border are completely safe and require no additional security.
So as we all wait to see what will happen next with the budget deal, Trump's reputation won't be hindered by the lack of border wall construction. Love it or hate it, it's happening.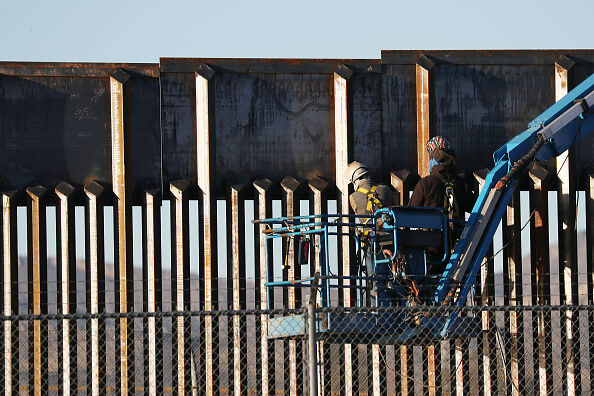 EL PASO, TEXAS - FEBRUARY 12: People work on the U.S./ Mexican border wall on February 12, 2019 in El Paso, Texas. U.S. President Donald Trump visited the border city yesterday as he continues to campaign for more wall to be built along the border. Democrats in Congress are asking for other additional border security measures. (Photo by Joe Raedle/Getty Images)

The Pursuit of Happiness
Ken Webster Jr is a talk radio personality and producer from Houston, TX. He started his career in Chicago on the Mancow show and has since worked at dozens of radio stations all over the country. He's currently the host of Pursuit of Happiness...
Read more