Animal Farm: 'AOC' Living In Luxury Apartment in DC
Some pigs are more equal than others.
Remember when socialist Congressional Rep. Alexandria Ocasio-Cortez (D., N.Y.) complained about the high cost of living in DC?
According to a new report from Washington Free Beacon, she's now staying in a high-cost luxury apartment building in the District of Columbia's Navy Yard neighborhood.
Like most Congressional swamp rats, Ocasio-Cortez is now being paid $174,000 annually by tax payers like you and me.
That may seem like a lot of money to normal folks like us, but last year she told the New York Times she wasn't sure how she'd be able to afford an apartment in DC.
Well, she must not be worried anymore, because she ended up finding a luxury apartment with all the amenities! 
Units in her current building start at $2000 a month and that's just for a studio.
Due to safety concerns the Washington Free Beacon won't report on the exact building Ocasio-Cortez lives in, which is understandable, but, if you're middle-class, just know she's probably got a nicer place than wherever you stay. 
City records show the mortgage for AOC's property in the Bronx was paid in-full in June 2007 so she only has to pay for HOA fees and property taxes.  She inherited the unit from dad.
Real estate experts refer to Ocasio-Cortez's new Navy Yard stomping as "one of the coolest neighborhoods in the world."
Must be nice being a privileged socialist lawmaker. Animal Farm, anyone?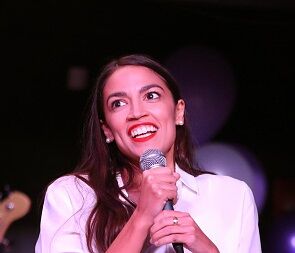 Photo of privileged socialist by Getty Images

The Pursuit of Happiness
Ken Webster Jr is a talk radio personality and producer from Houston, TX. He started his career in Chicago on the Mancow show and has since worked at dozens of radio stations all over the country. He's currently the host of Pursuit of Happiness...
Read more