Michael Avenatti Is Now Going After... R Kelly? Yep.
One of the most hated men in America is going after one of the other most hated men in America.
Yesterday Creepy-Porn-Lawyer Michael Avenatti said he has given Chicago prosecutors new video evidence proving R&B star R. Kelly had sex with an underage girl.
This doesn't really shock anyone, but the source is... Creepy Porn Lawyer, who was recently accused of beating a woman, so take it as a grain of salt.
Avenatti said the video is different from the evidence used against Kelly in his 2008 trial. At the time he was acquitted on child pornography charges.
CNN claims they've viewed the footage and it's a 45-minute VHS tape showing a man who looks like Kelly.  He's doing unwholesome things with a girl who says her body parts are "14 years old".
A spokeswoman for Cook County State's Attorney Kim Foxx will not confirm or deny if the office is investigating.
Even still, if any of this is true it's a safe bet that Creepy Porn Lawyer, a man who recently had a restraining order filed against him for purportedly manhandling a small woman, probably isn't the right guy to lead a crusade against men who abuse women.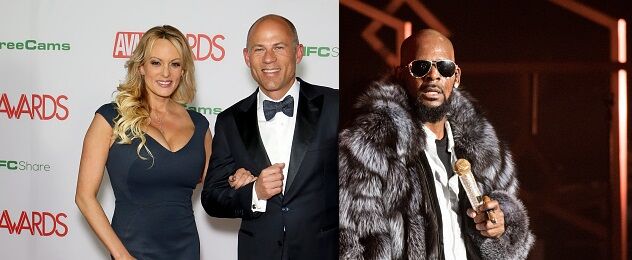 Photos of soulless celebrities provided by Getty Images

The Pursuit of Happiness
Ken Webster Jr is a talk radio personality and producer from Houston, TX. He started his career in Chicago on the Mancow show and has since worked at dozens of radio stations all over the country. He's currently the host of Pursuit of Happiness...
Read more