Jon Stewart Praises Donald Trump. No, Really.
Yes, folks, the rumors are true. Former Daily Show host Jon Stewart is offering support to President Trump.
Stewart commended Trump on Monday over his handling of the 9/11 victims fund while simultaneously blasting Congress for using the program to play partisan political games.
Stewart, an outspoken supporter of 9/11 victims and their family members, praised Trump at a press conference on Capitol Hill yesterday for his support for the cause as a new bill was introduced to help provide medical aid to victims and heroes from 9-11 suffering from long term health issues caused by the attack.
The Washington Examiner reports:
"Are the cameras on? Is everybody on me? The Trump Justice Department is doing an excellent job administrating this program. The claims are going through faster, and the awards are coming through," Stewart said of the 9/11 Victim Compensation Fund. "The Trump Justice Department, I don't know about anything else, I'm not going to comment on anything else, but that's why we're in the problem that we're in is the program works exactly like it's supposed to, so now it's Congress' job to fund it properly and let these people live in peace."
His push to boost the fund comes ahead of its 2020 expiration date and after the special master appointed to oversee it this month announced it would roll back some payments up to 70 percent due to a budget shortfall.
"There's no reason to drag these people down here," Stewart said of 9/11 victims and loved ones who traveled down to Washington, D.C., to join him on the lobbying trip. "It's bullshit. You know it and I know it, so let's stop the nonsense."
The Never Forget the Heroes: Permanent Authorization of the September 11th Victim Compensation Fund Act was introduced in the House on Monday by Rep. Carolyn B. Maloney, D-N.Y., Jerry Nadler, D-N.Y., and Peter King, R-N.Y. Its Senate companion was brought forward by Senate Minority Leader Chuck Schumer, D-N.Y., Sen. Kirsten Gillibrand, D-N.Y., and Sen. Cory Gardner, R-Colo., but needs strong Republican support to clear the chamber.
This isn't even the first time Stewart offered a compliment to President Trump. During an interview last October he and fellow comedian Dave Chappelle sid Trump gets too much credit for the nation's current political divide.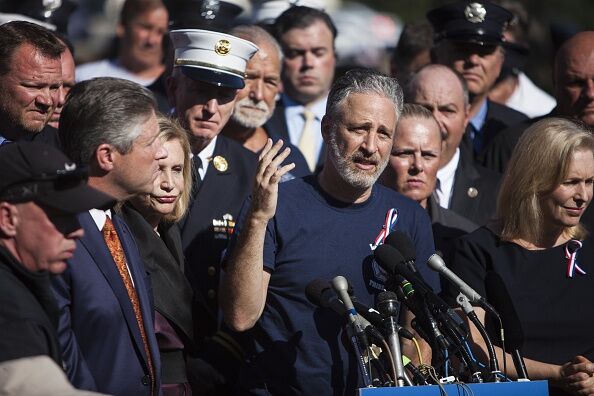 The Pursuit of Happiness
Ken Webster Jr is a talk radio personality and producer from Houston, TX. He started his career in Chicago on the Mancow show and has since worked at dozens of radio stations all over the country. He's currently the host of Pursuit of Happiness...
Read more