LOUISIANA: 36,000 Felons Can Now Legally Vote
The state of Louisiana has granted voting rights to felons.
   Mar. 1, all residents convicted of a felony in Louisiana and who've completed their sentence over five years ago are allowed to register to vote, even if they're still serving probation or parole.
   Here's an overview of the law:
   To amend and reenact R.S. 18:102(A)(1), 104(C), and 177(A)(1), relative to registration and 3 voting; to provide relative to registration and voting by a person convicted of a 4 felony; to provide relative to suspension of registration and voting rights of such a 5 person; to provide relative to procedures and requirements for voter registration and 6 voting; to provide relative to reinstatement of voter registration; and to provide for 7 related matters.
   However, some state lawmakers and corrections officials agree that the law needs some
This will give over 36,000 felons the right to vote.
This is probably going to help Democrats in the short-term but it's also the right thing to do - these men and women already served their punishment so why shouldn't they be allowed to vote?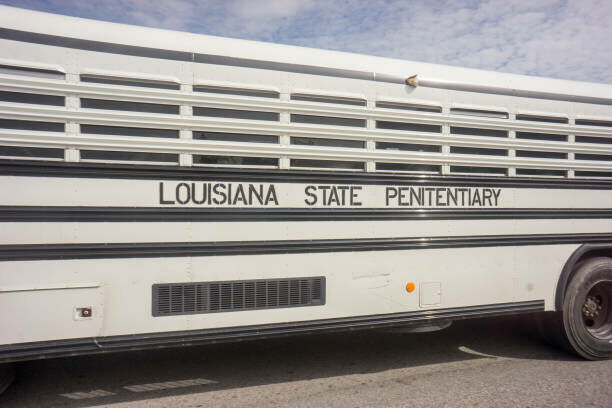 ANGOLA PRISON, LOUISIANA - OCTOBER 14, 2013: An offender transportation bus at Angola prison. The Louisiana State Penitentiary, also known as Angola, and nicknamed the 'Alcatraz of the South' and 'The Farm' is a maximum-security prison farm in Louisiana operated by the Louisiana Department of Public Safety & Corrections. It is named Angola after the former plantation that occupied this territory, which was named for the African country that was the origin of many enslaved Africans brought to Louisiana in slavery times. This is the largest maximum-security prison in the United States[with 6,300 prisoners and 1,800 staff, including corrections officers, janitors, maintenance, and wardens. It is located on an 18,000-acre (7,300 ha) property that was previously known as the Angola Plantations and bordered on three sides by the Mississippi River. (Photo by Giles Clarke/Getty Images)

The Pursuit of Happiness
Ken Webster Jr is a talk radio personality and producer from Houston, TX. He started his career in Chicago on the Mancow show and has since worked at dozens of radio stations all over the country. He's currently the host of Pursuit of Happiness...
Read more