Ocasio-Cortez: U.S. Shouldn't Have Retaliated Against 9/11 Perpetrators
Socialist Congressional Rep. Alexandria Ocasio-Cortez (Dumb-NY) made some outrageous statements on Monday night via Twitter when she suggested that the United States should never have retaliated against those the people who perpetrated the 9/11 terror attacks. Ocasio-Cortez: U.S. Shouldn't Have Retaliated Against 9/11 Perpetrators
As a reminder, AOC is from Queens and lived in New York during 9-11-01. 
   Ocasio-Cortez continued with another tweet that contained some false information: "I remember a time when it was 'unacceptable' to question the Iraq War. All of Congress was wrong, including both GOP & Dem Party, and led my generation into a disastrous + wrong war that virtually all would come to regret, except for the one member who stood up: Barbara Lee."
   After being called out for the tweet's inaccuracies, Ocasio-Cortez clarified that she meant the Afghanistan war, and added: "(But honestly we shouldn't have been in either, and we should end the AUMF now while we're at it)"
   Ocasio-Cortez plainly stated that "all of Congress was wrong" was to vote in favor of the Authorization to Use Military Force (AUMF) and that Barbara Lee was correct for not voting for it.
AOC, a good friend of lawmaker Rep Ilhan Omar (who once tried to have Somalian-Muslims freed from jail after they attempted to join ISIS), is clearly on the wrong side of history.
Wow.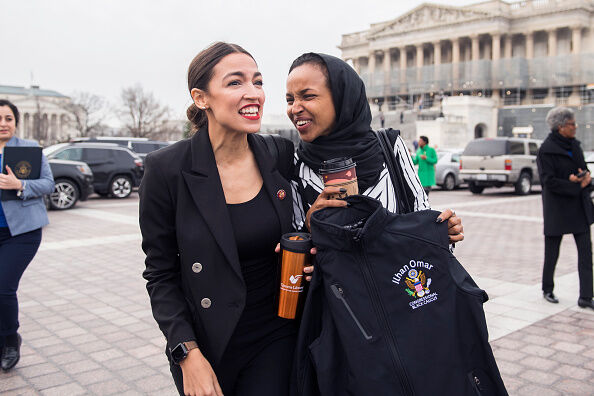 UNITED STATES - JANUARY 04: Reps. Alexandria Ocasio-Cortez, D-N.Y., left, and Ilhan Omar, D-Minn., arrive for a group photos with Democratic women members of the House on the East Front of the Capitol on January 4, 2019. Omar is holding a Congressional Black Caucus jacket bearing her name. (Photo By Tom Williams/CQ Roll Call)

The Pursuit of Happiness
Ken Webster Jr is a talk radio personality and producer from Houston, TX. He started his career in Chicago on the Mancow show and has since worked at dozens of radio stations all over the country. He's currently the host of Pursuit of Happiness...
Read more