76,000 Migrants Crossed Border Last Month & Dems Still Don't Care
If this isn't a national emergency, what is it?
Preliminary numbers from Border Patrol show that more than 76,000 illegal immigrants were detained on the border last month. That's up from 58,000 in January. Even the Left-leaning Washington Post and New York Times are reluctantly admitting this is a cause for concern.
Imagine if 76,000 people walked through your backyard in February. You're telling me you wouldn't put up a fence?
More than 76,000 people tried to cross the U.S.-Mexico border in February — a "remarkable" leap that more than doubles the number of border apprehensions during the same period of time last year, and is also the highest number of any February in the past 12 years, according to officials.
The system is "well beyond capacity, and remains at the breaking point," U.S. Customs and Border Protection Commissioner Kevin McAleenan told reporters on Tuesday as the agency released the "record numbers" of those trying to enter the U.S. through the southern border.
Brian Hastings, the chief of law enforcement operations at the agency, told reporters that historically, 70 to 90 percent of apprehensions at the border included Mexican nationals.
As of Tuesday, he said, 70 percent of those arrested for attempting entry without proper documentation are from the "Northern Triangle of Central America," which includes Guatemala, El Salvador and Honduras.
"It should be very clear from these numbers that we are facing alarming trends in the rising volumes of people illegally crossing our southwest border, or arriving at our ports of entry without documents," McAleenan said.
The commissioner added that border patrol is also noticing a "stark increase" of those seeking asylum. Since October, there's been a 90 percent increase over the "record levels" of asylum seekers since the last fiscal year, according to the agency, which added that 60 percent of those trying to enter the U.S. without proper documentation are "making claims of fear of return to their home country."
Meanwhile Democrats think border walls are immoral and 2020 candidates like Beto O'Rourke and Kirsten Gillibrand are actually talking about taking down existing borders.
Baffling.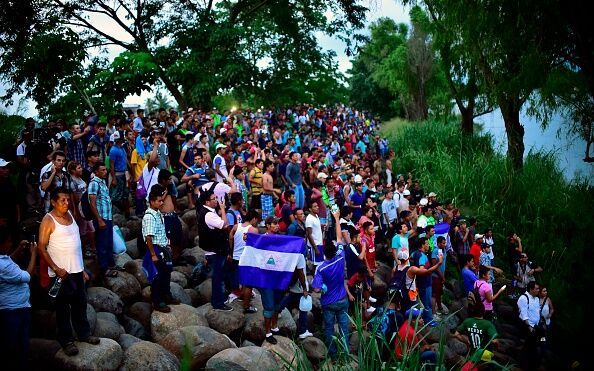 TOPSHOT - Honduran migrants heading in a caravan to the US, who have already reached Mexican soil, cheer at the rest of the group still waiting to cross at the Guatemala-Mexico border bridge, in Ciudad Hidalgo, Chiapas state, Mexico after crossing from Guatemala, on October 20, 2018. - Thousands of migrants who forced their way through Guatemala's northwestern border and flooded onto a bridge leading to Mexico, where riot police battled them back, on Saturday waited at the border in the hope of continuing their journey to the United States. (Photo by Pedro Pardo / AFP) (Photo credit should read PEDRO PARDO/AFP/Getty Images)

The Pursuit of Happiness
Ken Webster Jr is a talk radio personality and producer from Houston, TX. He started his career in Chicago on the Mancow show and has since worked at dozens of radio stations all over the country. He's currently the host of Pursuit of Happiness...
Read more