The Alt-Right Loves Rep Omar (Of Course They Do)
By now most of you have probably heard about Rep Ilhan Omar's (D-MN) recent (and not-so-recent) antisemitic statements about Israel and the people who support their right to exist.
She's been doing this a lot lately. Her polarizing opinions about Israel and Jewish people have created a rift in her own party. 
Last week House Foreign Affairs Committee Chairman Eliot Engel (D-NY) demanded the congresswoman apologize for her "vile antisemitic slur".
Meanwhile House Speaker Nancy Pelosi seems to be siding with Omar. Earlier today at a press conference she said she doesn't think the freshman lawmaker owes anyone an apology for her comments.
Now that antisemitism has reared it's ugly head into the Democrat party, one has to wonder: what do the other antisemites think about Rep Omar?  Ya know, the alt-right. Not surprisingly, they were pretty stoked to learn that a far-left Democrat is embracing their disdain for the only Jewish state on Earth.  
The Daily Stormer, the infamous American neo-Nazi news site, called her "brave" and suggested the people criticizing her are just "hostile Jews."  They also accused news outlets like CNN and Fox News of trying to get her to resign by running stories about Omar's comments and the outrage that surrounds her statements.
Similarly Richard Spencer, the white supremacist and President of the National Policy Institute, has filled his Twitter account's timeline with remarks from like-minded individuals praising Omar and accusing people like Ben Shapiro of using their, "privileged Jewish identity to de-legitimize debate around Israel."
It shouldn't shock anyone that the alt-right is praising antisemitism in the Democrat party. Omar's rhetoric represents everything they've been saying for years. But hearing them offer praise to a black female Muslim lawmaker who once tried to use her influence to free men from jail who were arrested for trying to join ISIS almost seems like it's not real, but it's as real as Sharia in Iran.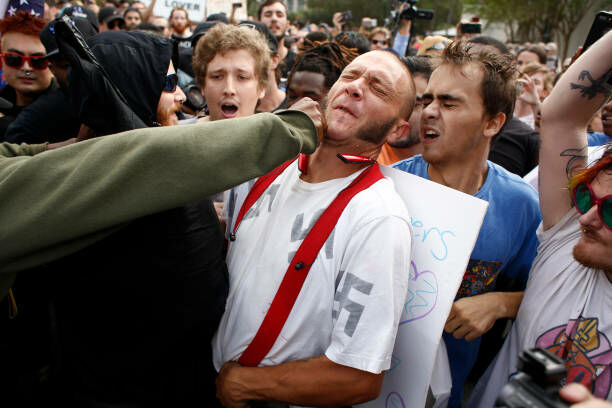 GAINESVILLE, FL - OCTOBER 19: A man wearing a shirt with swastikas on it is punched by an unidentified member of the crowd near the site of a planned speech by white nationalist Richard Spencer, who popularized the term 'alt-right', at the University of Florida campus on October 19, 2017 in Gainesville, Florida. A state of emergency was declared on Monday by Florida Gov. Rick Scott to allow for increased law enforcement due to fears of violence. (Photo by Brian Blanco/Getty Images)

The Pursuit of Happiness
Ken Webster Jr is a talk radio personality and producer from Houston, TX. He started his career in Chicago on the Mancow show and has since worked at dozens of radio stations all over the country. He's currently the host of Pursuit of Happiness...
Read more