Democrats Agree: All Lives Matter
Remember way back in 2015 when Democrats said "Black Lives Matter" and Republicans responded by saying, "Sure, but All Lives Matter too," so Democrats responded by saying, "That's racist."
Well, apparently they don't feel that way anymore.
The Democrats in the Congressional House have drafted and passed resolution against "All hate," because they agree that all individuals are equal and all hatred is deplorable.
In other words... All Lives Matter.
There was a process that got us here. Last week the Democrats were pretty upset about Rep Ilhan Omar's (D-MN) repeated antisemitic tropes on Twitter and elsewhere. But after Democrats realized the far-left didn't mind Omar's antisemitism, they had to do an about-face. They couldn't allow the Republican to look good, even on something as obvious as fighting antisemitism.
So instead of passing a resolution against antisemitism, they're against "all hate". Isn't that nice?
The one-sided 407-23 vote Thursday was the best they could do after the inner-party dispute over how to respond to freshman Rep. lIhan Omar's obvious hatred of Jews.
Conclusion: Democrats agree - #AllLivesMatter.
We tried to tell you in 2015 but you wouldn't listen. Oh well. At least now we finally agree. 
#BLM not available for comment.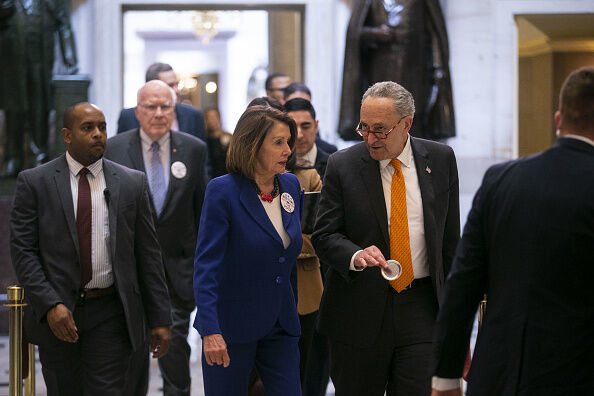 U.S. House Speaker Nancy Pelosi, a Democrat from California, center, and Senate Minority Leader Chuck Schumer, a Democrat from New York, right, walk to a news conference to introduce H.R. 4, Voting Rights Advancement Act, on Capitol Hill in Washington, DC, U.S., on Tuesday, Feb. 26, 2019. The bill would require 13 states with a history of voter discrimination to seek approval from the Justice Department before changing voting laws and procedures, according to the Washington Post. Photographer: Al Drago/Bloomberg via Getty Images

The Pursuit of Happiness
Ken Webster Jr is a talk radio personality and producer from Houston, TX. He started his career in Chicago on the Mancow show and has since worked at dozens of radio stations all over the country. He's currently the host of Pursuit of Happiness...
Read more