GOP Senators Support Bill to Limit Trump's Power
Senate Republicans introduced a bill that would limit President Donald Trump's ability to declare national emergencies. So far 15 Republicans have said they will vote yes for it.
Senator Mike Lee (R-Utah) is the muscle behind the bill. He says Congress needs to retake the power it previously lost.
Lee said in a statement on Tuesday, "If Congress is troubled by recent emergency declarations made pursuant to the National Emergencies Act, they only have themselves to blame."
"Congress gave these legislative powers away in 1976 and it is far past time that we as an institution took them back. If we don't want our president acting like a king we need to start taking back the legislative powers that allow him to do so."
Here are the 15 Republicans Senators who intend to vote yes for the Bill:
Sens. Chuck Grassley (Iowa)
Thom Tillis (N.C.)
Joni Ernst (Iowa)
Pat Toomey (Pa.)
Ron Johnson (Wisc.)
Jerry Moran (Kan.)
Lamar Alexander (Tenn.)
Ben Sasse (Neb.)
Roy Blunt (Mo.)
Rob Portman (Ohio)
Todd Young (Ind.)
Mitt Romney (Utah)
Mike Lee (Utah)
Ted Cruz (Texas)
Roger Wicker (Miss.)
The Bill was named "Assuring that Robust, Thorough, and Informed Congressional Leadership is Exercised Over National Emergencies Act." It's an acronym for "Article One," where the powers of Congress are listed in the Constitution.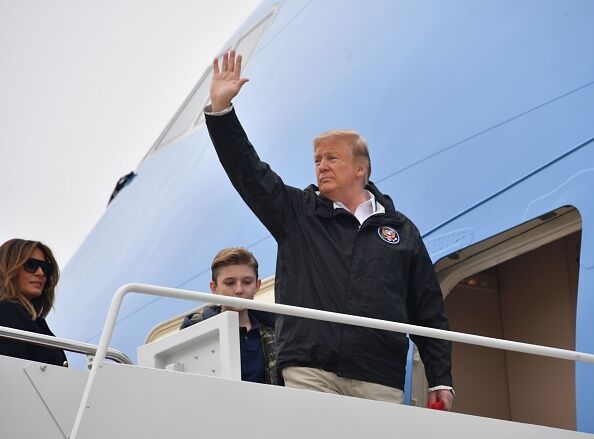 US President Donald Trump, with First Lady Melania Trump (L) and their son Barron, waves as he boards Air Force One at Joint Base Andrews, in Maryland, on March 8, 2019 in Washington, DC. - Trump is heading to Alabama to survey tornado damage before spending the weekend at his Mar-a-Lago resort in Florida. (Photo by Nicholas Kamm / AFP) (Photo credit should read NICHOLAS KAMM/AFP/Getty Images)

The Pursuit of Happiness
Ken Webster Jr is a talk radio personality and producer from Houston, TX. He started his career in Chicago on the Mancow show and has since worked at dozens of radio stations all over the country. He's currently the host of Pursuit of Happiness...
Read more