Even Bill De Blasio Doesn't Care about Bill De Blasio's Campaign
I miss TV's Michael Scott.  
I know I'm not alone. The Office was a brilliant TV show.  It had so many relatable qualities; the dead pan humor, cliche workplace habits and all the stereotypes of middle America office life were front and center on America's favorite TV sitcom.
But of all the things I miss the most about the office, I miss Michael Scott: the simple minded, lovable loser boss who can't read a room to see how well liked he ain't.
Fortunately for me, there's NYC Mayor Bill De Blasio and his lackluster Presidential campaign.
If you're not following the fun (and believe me, you're not) here are some headline highlights (via journalist Seth Mandel).
February 24th: Bill De Blasio Stranded In Iowa Motel After Blizzard Hits
March 11th: New York City Mayor Bill De Blasio Danced To R Kelly's "I Believe I Can Fly" At South Carolina Church
March 18th: Bill De Blasio Draws Six-Person Crowd
March 19th: Bill De Blasio Currently Polling at 0 in Iowa
But wait, there's more.
Bill De Blasio's attempt to flirt with a presidential run keeps getting sadder and sadder after his Sunday event in New Hampshire only pulled in about 20 people and 14 of those people were on De Blasio's panel. That means his event had only six people in the audience and all six of those people were with that media. 
That means De Blasio's event had nobody there. Exactly zero voters wanted to attend De Blasio's event.
You won't hear much about Bill's presidential campaign.  Simply by reading this article you've already been more exposed to information about his campaign than 99% of Americans. 
Congratulations. Welcome to the De Blasio Posse. Is that catchy? "De Blasio Pose"? I'm coining that term because there isn't enough interest in his campaign for anyone else to have previously given his supporters a nick name. Which makes sense. I mean, after all, how can you give a nick name to a group of people who don't exist? 
De Blasio's Presidential campaign is so sad it's practically satire.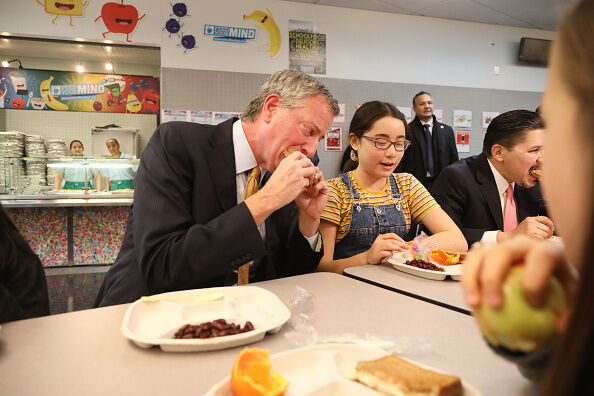 NEW YORK, NEW YORK - MARCH 11: New York Mayor Bill de Blasio joins Schools Chancellor Richard Carranza and school children for lunch at PS130, a Brooklyn public school, for an announcement about Meatless Monday's on March 11, 2019 in New York City. Citing healthy eating habits for children and the environmental impact of too much meat in our diet, Mayor de Blasio and Schools Chancellor Carranza will begin having all public school serve an all vegetarian menus on Mondays beginning in the 2019-2020 school year. (Photo by Spencer Platt/Getty Images)

The Pursuit of Happiness
Ken Webster Jr is a talk radio personality and producer from Houston, TX. He started his career in Chicago on the Mancow show and has since worked at dozens of radio stations all over the country. He's currently the host of Pursuit of Happiness...
Read more