Border Patrol: Detention Centers Totally Full, Releasing Migrants
Get ready, here they come. We told you this would happen.
Without changing our nation's public policies regarding refugees and migrants, the flow of caravans, unaccompanied minors and sanctuary-city seeking criminals will never end.
If we want this mass-migration to stop we need to change our nation's outdated immigration laws and nobody in DC seems to care (including the Republicans).  
MCALLEN, Texas — The Border Patrol released 250 migrants here on Tuesday and Wednesday and expects to free hundreds more in coming days because there is no room to hold them.
Normally, the agency would transfer the migrants to Immigration and Customs Enforcement to be "processed" and in many cases placed in detention facilities. But officials said Wednesday that a recent influx of Central American families has led to a severe shortage of space.
Immigrant advocates suggested the releases were intended to sow confusion at the border and further President Donald Trump's argument that there is a national emergency there.
"They are doing this deliberately so they can release a ton of people at once and create chaos," said Efren Olivares, an attorney with the Texas Civil Rights Project, which sent lawyers to the McAllen bus station to monitor developments. "The government is trying to do this."
He pointed out that the federal government has dealt with bigger influxes of migrants in the recent past.
A Border Patrol official — who spoke on the condition that he not be identified — denied that the release was a political stunt and said crowded facilities threatened agents and migrants.
"It is a crisis," he said. "It's not a self-proclaimed crisis."
The agency plans to make similar releases along other parts of the border, he said.
In February, the Border Patrol caught 66,450 migrants, a 38 percent increase from January and one of the highest monthly totals of the last decade. More than half of those arrested were parents and children, and 40 percent of those were in the Rio Grande Valley.
The number of families arriving in the Rio Grande Valley sector since October has jumped nearly 210 percent over the same period in the last fiscal year, according to Customs and Border Protection reports.
Still, migrant apprehensions are far below levels seen for decades until the mid-2000s, when they reached more than a million per year — mostly adult Mexican men — before falling dramatically.
That hasn't stopped Trump from declaring a national emergency at the southern border in order to tap into billions in federal funding for his long-promised border wall.
Three ICE family detention centers in Texas and Pennsylvania — with more than 3,000 beds — have been full for a month, said an agency official speaking on background.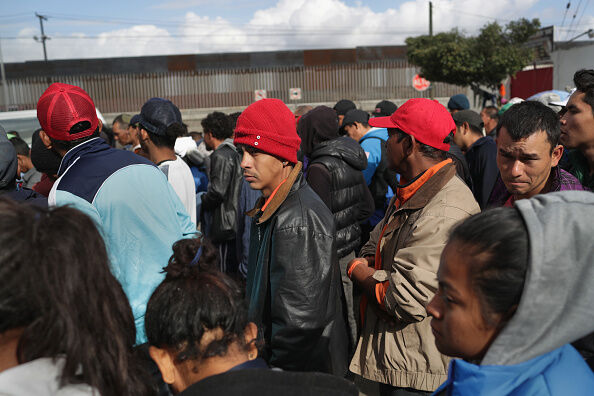 TIJUANA, MEXICO - DECEMBER 01: Members of the migrant caravan wait for food while near the U.S.-Mexico border fence on December 1, 2018 in Tijuana, Mexico. Authorities closed a squalid open-air shelter next to the fence and bussed thousands of migrants to a different facility, further away from the border. (Photo by John Moore/Getty Images)

The Pursuit of Happiness
Ken Webster Jr is a talk radio personality and producer from Houston, TX. He started his career in Chicago on the Mancow show and has since worked at dozens of radio stations all over the country. He's currently the host of Pursuit of Happiness...
Read more