WHAT?! - Prosecutors Drop Charges Against Dirt-bag Jussie Smollett
Jussie Smollett staged a fake hate crime. His reckless behavior was intended to help him earn a higher paycheck. He's lucky he didn't start a race war in Chicago. He's basically a sociopath.
And for some reason prosecutors just dropped the charges against him.
Jussie Smollett will not be prosecuted for allegedly faking a racial attack, because all charges have been dropped!!!
Jussie and his lawyers ran to court Tuesday morning in Chicago, where he was facing 16 felony counts of lying to police in the alleged racial and homophobic attack. 
Jussie will surrender his $10,000 bond. We're told he has agreed to perform community service. But that's it. The case is over.
Jussie's lawyers say, "Today, all criminal charges against Jussie Smollett were dropped and his record has been wiped clean of the filing of this tragic complaint against him. Jussie was attacked by 2 people he was unable to identify on January 29th. He was a victim who was vilified and made to appear as a perpetrator as a result of false and inappropriate remarks made to the public, causing an inappropriate rush to judgment."
The lawyers go on ... "Jussie and many others were hurt by these unfair and unwarranted actions. This entire situation is a reminder that there should never be an attempt to prove a case in the court of public opinion. That is wrong. It is a reminder that a victim, in this case Jussie, deserves dignity and respect. Dismissal of charges against the victim in this case was the only just result."
A source close to Jussie says the prosecution's case "disintegrated." As we reported, there were issues with the $3,500 check the 2 brothers received from Jussie. The Police Superintendent had said the money was payment for the fake attack, but it appears it was actually for physical training.
Something stinks. Follow the money. There's something very suspicious about this news.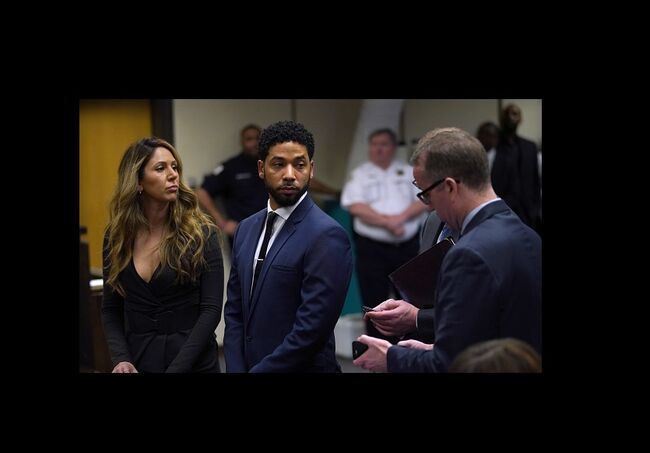 Photo of lying dirtbag by Getty Images

The Pursuit of Happiness
Ken Webster Jr is a talk radio personality and producer from Houston, TX. He started his career in Chicago on the Mancow show and has since worked at dozens of radio stations all over the country. He's currently the host of Pursuit of Happiness...
Read more