SheJack Staffer Who Doxxed Republicans Gets Cushy Plea Deal
If you're still pissed off about the Jussie Smollett case, you're really not gonna like this news.
Remember Jackson Cosko? Jackson is a fellow from Rep. Sheila Jackson Lee's (D-TX) office who was arrested last year after he broke into the office of Sen. Maggie Hassan (D-NH) and illegally access a staff computer without authorization.
A staff member of Hassan recognized him and reported him to authorities.
That's when Cosko started sending threatening emails to the staffer that said things like, "If you tell anyone I will leak it all. Emails signal conversations gmails. Senators children's health information and socials."
Not surprisingly, Cosko got arrested. Authorities charged him with publishing restricted personal information, threats in interstate communication, unauthorized access of a government computer, identity theft, witness tampering, second degree burglary, and unlawful entry.
Yikes! That's quite the laundry list of crimes, isn't it?
But now his attorney has reached a plea deal with federal prosecutors. While the full details of his plea deal haven't been released yet it sounds like he's getting a pretty nice break.
The deal will be signed and made official on April 5.
U.S. District Judge Thomas Hogan said Cosko had terabytes of information he stole from the Senate, including sensitive data.
Jackson Cosko wasn't just a Democrat staffer. He's also the child of a very wealthy Democrat donor.  His Dad, Greg Cosko, is the CEO of Hathaway Dinwiddie, a giant construction firm that built the headquarters for big corporations like Bank of America, Del Monte foods, and Pixar Animation, among other large projects.
After ditching the stolen data Jackson Cosko kept sending threats, even after he was arrested, according to the Daily Caller.
During the Kavanaugh hearing he published personal data for five GOP senators to the website Wikipedia. The information was also posted to Twitter.
During his arrested investigators found cocaine and meth among Jackson Cosko's personal belongings.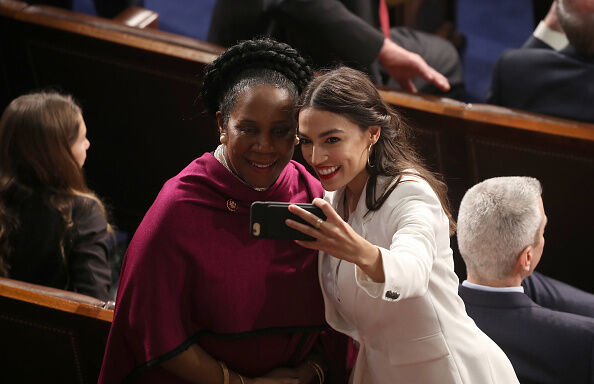 WASHINGTON, DC - JANUARY 3: Rep.-elect Alexandria Ocasio-Cortez (D-NY) takes a photo with Rep. Sheila Jackson-Lee (D-TX) prior to the first session of the 116th Congress at the U.S. Capitol January 3, 2019 in Washington, DC. Under the cloud of a partial federal government shutdown, Nancy Pelosi will reclaim her former title as Speaker of the House and her fellow Democrats will take control of the House of Representatives for the second time in eight years. (Photo by Mark Wilson/Getty Images)

The Pursuit of Happiness
Ken Webster Jr is a talk radio personality and producer from Houston, TX. He started his career in Chicago on the Mancow show and has since worked at dozens of radio stations all over the country. He's currently the host of Pursuit of Happiness...
Read more