Trump Cuts Foriegn Aid to Countries Who Hate Us
Why would a country with $22 trillion in debt give billions of dollars every year to countries who hate us?
That's a great question, and it's one that President Trump asked himself this past week when he decided to cut aid to El Salvador, Guatemala and Honduras, three nations who directly contribute to our country's immigration crisis.
Making good on a longstanding threat, President Trump moved this weekend to cut direct aid to El Salvador, Guatemala and Honduras, whose citizens are fleeing north and overwhelming U.S. resources -- including as part of organized caravans that the White House has warned may eventually lead to the closure of the entire southern border with Mexico.
The dramatic step comes just days after Mexican Interior Secretary Olga Sanchez Cordero warned ominously that "the mother of all caravans" could be coming soon from the three nations.
"We have information that a new caravan is forming in Honduras, that they're calling 'the mother of all caravans,' and they are thinking it could have more than 20,000 people," Sanchez Cordero said Wednesday. A much smaller group of approximately 40 migrants left over the weekend, and a separate caravan of nearly 2,500 is currently making its way through Mexico.
And former Homeland Security Secretary Jeh Johnson acknowledged Saturday that America has a "crisis" at the southern border, and that the number of apprehensions exceed anything he encountered during his time serving under former President Barack Obama.
Last December, the U.S. pledged more than $10B in aid to Central America and Mexico to help keep migrants put. Later that month, Trump tweeted: "..Honduras, Guatemala and El Salvador are doing nothing for the United States but taking our money. Word is that a new Caravan is forming in Honduras and they are doing nothing about it. We will be cutting off all aid to these 3 countries -- taking advantage of U.S. for years!"
On Saturday, the State Department put those words into action, and notified Congress that it would look to suspend 2017 and 2018 payments to the trio of nations, which have been home to some of the migrant caravans that have marched through Mexico to the U.S. border.
In tweets posted Saturday, Trump blamed Democrats and Mexico for problems at the border and beyond, saying progressives are concerned only with changing domestic demographics to ensure more liberal voters.
The leadership in these countries have been taking checks from us while watching their own people race across our borders for decades. Now our President is putting a stop to that nonsense.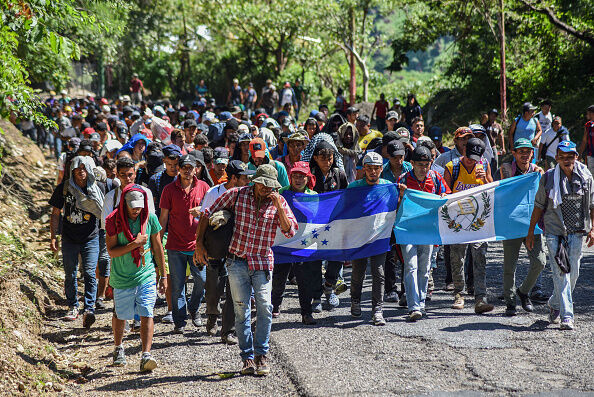 TOPSHOT - Honduran migrants take part in a new caravan heading to the US with Honduran and Guatemalan national flags in Quezaltepeque, Chiquimula, Guatemala on October 22, 2018. - US President Donald Trump on Monday called the migrant caravan heading toward the US-Mexico border a national emergency, saying he has alerted the US border patrol and military. (Photo by ORLANDO ESTRADA / AFP) (Photo credit should read ORLANDO ESTRADA/AFP/Getty Images)

The Pursuit of Happiness
Ken Webster Jr is a talk radio personality and producer from Houston, TX. He started his career in Chicago on the Mancow show and has since worked at dozens of radio stations all over the country. He's currently the host of Pursuit of Happiness...
Read more