Unbelievable Reason All Charges Dropped In 2015 Waco Biker Shootout
Remember the 2015 biker shoot out at the Twin Peaks restaurant in Waco?
Nine people died and twenty others were injured in America's deadliest bikers shoot out to date.
Here's an update on that story & it's absolutely mind-blowing: all charges have been dropped. Prosecutors couldn't convict a single person.
McLennan County District Attorney Barry Johnson announced his office will not be prosecuting anyone involved in the 2015 shootout between biker gangs in Waco.
Johnson's announcement comes almost four years after some 200 members of rival motorcycle clubs congregated together at a Waco strip mall park lot, supposedly over a dispute of territories.
Horrified diners ducked for cover as bullets flew through the air during lunchtime. Bandidos and Cossacks bikers feuded with guns and knives as 29 people were either seriously hurt or killed during the melee.
When it was all said and done about 177 tattooed men and women were arrested.
And then came the paperwork. With so many people involved, it was nearly impossible for prosecutors to make sense of who did what. 
Over the past four years prosecutors tried to bring cases against dozens of purported biker gang members, but only one case ever made it to trial or, to put it more accurately, a mistrial.
Almost all of the 177 cases were dismissed.
Johnson didn't take office until January, so this case was already a hot mess on the day he took the helm.
Johnson wrote in a statement, "I do not believe that it is a proper exercise of my judgment ... to proceed with the further prosecution of what I believe to have been an ill-conceived path that this District Attorney's Office was set upon almost four years ago. 
"I do not believe that path should continue to be pursued."
For those who aren't hip on Texas biker culture, the Cossacks and the Bandidos have been driving around the Lone Star state since the 1960s. They've been rivals for quite some time. 
So what caused the May 17th, 2015 biker brawl anyway?
The short answer is, no one really knows. Or if they know they aren't saying. 
Authorities believe the shootout was inspired by a turf war. Investigators have speculated that the Bandidos became upset when a smaller Cossacks club decided to brandish wearing Texas patches on their jackets.
However, many bikers who were present at the shootout claim that's just not true. Some even claim the fight began after one biker drive over another biker's foot. 
Whatever the case may be, things got bloody and violent very quickly that day and in just a matter of hours the former McLennan County District Attorney, Abel Reyna, handed out 177 arrest warrants. They were all charged with similar felonies, including engaging in organized criminal activity, resulting in murder and aggravated assault.
Matters got more complicated when it was revealed that some of the people being charged were neither Bandidos or Cossacks, but people who happened to be dressed like bikers and eating at the restaurant at the same time. 
There were multiple erroneous arrests and those charges resulting in multiple multi-million dollar lawsuits that are still awaiting their day in court. 
Over 130 people have filed civil rights lawsuits against the DA and law enforcement agencies.
As for the people who died, six of them were affiliated with the Cossacks motorcycle gang, one was a member of the Bandidos, and two more were not affiliated with either gang. Call it an example of being in the wrong place at the very worst possible time.
So what was the real cause of this massive shootout and who was the true perpetrator? We'll never know. Maybe Hollywood will make it into a movie someday. That sounds like something they'd do, isn't it? Guess we'll have to wait and see.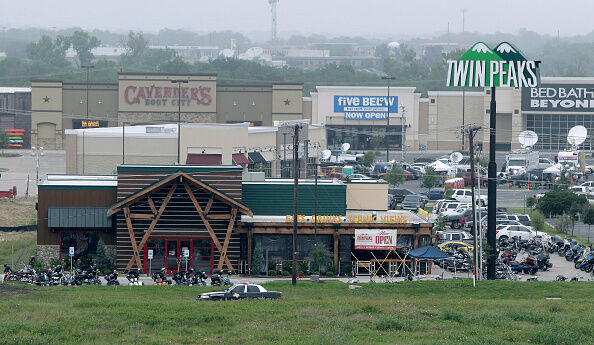 WACO, TX - MAY 18: Motorcyles sit in the parking lot of the Twin Peaks restaurant, the scene of a motorcyle gang shootout, May 18, 2015 in Waco, Texas. A shootout between rival biker gangs began in the afternoon May 17, led to nine dead, many injured and 170 arrerested. (Photo by Erich Schlegel/Getty Images)

The Pursuit of Happiness
Ken Webster Jr is a talk radio personality and producer from Houston, TX. He started his career in Chicago on the Mancow show and has since worked at dozens of radio stations all over the country. He's currently the host of Pursuit of Happiness...
Read more