WikiLeaks: Julian Assange Arrested By British Police
Julian Assange has been arrested in the UK. He's out of the Ecuador Embassy after the country withdrew his asylum.
Assange might be one of the only known people with information pertaining to the source of the 2016 DNC hacks, so this arrest has huge political implications.
Ecuador announced Thursday that it has withdrawn asylum from WikiLeaks founder Julian Assange for "repeatedly violating international conventions and protocol."
Assange was subsequently arrested by British police.
Ecuadoran Foreign Minister Jose Valencia told Teleamazonas this week that living in the embassy indefinitely is bad for Assange's "state of mind, his health," but that Assange has a right to a fair trial and right to a defense.
London's Metropolitan Police vowed earlier this month to arrest Assange if he were freed. Assange, who has lived in the embassy for more than six years, faces possible extradition to the U.S. for publishing thousands of classified military and diplomatic cables through WikiLeaks.
Assange has been in the embassy since 2012 when British courts ordered him extradited to Sweden to face questioning in a sexual assault case. That matter has since been dropped, but Wikileaks is facing a federal grand jury investigation over its publication of American diplomatic and military secrets during the Iraq War.
Assange and his website were front and center during the 2016 presidential election, when they published thousands of Democratic National Committee emails and files from Hillary Clinton's campaign chairman, John Podesta. Democrats believe the emails were delivered to Assange by Russian operatives, but Assange has insisted they did not come from a state actor.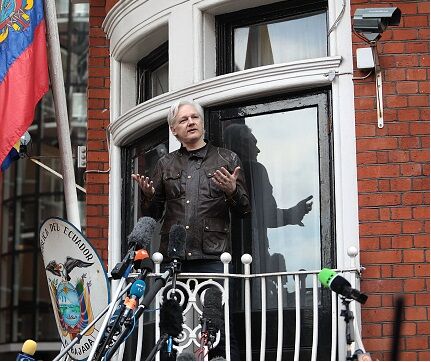 LONDON, ENGLAND - MAY 19: Julian Assange speaks to the media from the balcony of the Embassy Of Ecuador on May 19, 2017 in London, England. Julian Assange, founder of the Wikileaks website that published US Government secrets, has been wanted in Sweden on charges of rape since 2012. He sought asylum in the Ecuadorian Embassy in London and today police have said he will still face arrest if he leaves. (Photo by Jack Taylor/Getty Images)

The Pursuit of Happiness
Ken Webster Jr is a talk radio personality and producer from Houston, TX. He started his career in Chicago on the Mancow show and has since worked at dozens of radio stations all over the country. He's currently the host of Pursuit of Happiness...
Read more