Dems Finally Admit Border Crisis Is Real... & They Blame Trump. Of Course.
The Democrats are finally admitting there's a crisis at the border... and they're blaming Trump for making it worse.
This news is so ironic that it comes with a copy of Alanis Morrisette's classic hit song.
U.S. House of Representatives Democrats are accusing Republican President Donald Trump of aggravating a crisis situation at the southern U.S. border, saying he has not used funds available to help deal with a surge of migrants and exacerbated the problem with his attempts to crack down.
House Speaker Nancy Pelosi said Thursday that bipartisan immigration reform, which has eluded Congress and the White House for years, is still the solution. It is in fact "inevitable," Pelosi said on the sidelines of a Democratic party meeting in Leesburg, Virginia.
In Washington, Senate Majority Leader Mitch McConnell, a Republican, also called for bipartisan discussions on immigration. But he focused on toughening U.S. asylum law, a move that Democrats likely would oppose.
Democrats have not proposed a comprehensive immigration bill since taking the majority in the House this year. Republicans still hold the Senate.
Instead, Democrats last month proposed legislation offering a pathway to citizenship for more than 2 million undocumented immigrants who were brought illegally to the United States as children. Known as Dreamers, they face possible deportation.
The House Democratic bill would also help immigrants from countries hit by civil conflicts or natural disasters who have temporary protected status, known as TPS.
U.S. officers arrested or denied entry to over 103,000 people along the border with Mexico in March, a 35 percent increase over the prior month and more than twice as many as the same period last year, according to data released by U.S. Customs and Border Protection this week.
Once again Democrats are fanning the flames of a serious problem & blaming Trump for the mess they made.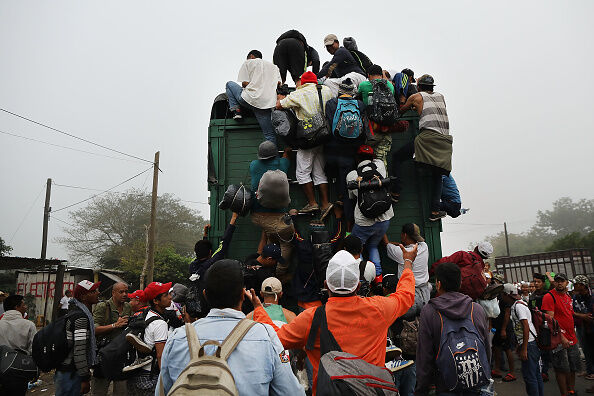 ISLA, MEXICO - NOVEMBER 04: Hundreds of members of the Central American migrant caravan move in the early hours toward their next destination on November 04, 2018 in Isla, Mexico. The group of migrants, many of them fleeing violence in their home countries, last took a rest day on Wednesday and have resumed their march to the United States border. As fatigue from the heat, distance and poor sanitary conditions has set in, the number of people participating in the march has slowly dwindled but a significant group are still determined to get to the United States. The U.S. will deploy more than 5,000 active-duty troops to the U.S.-Mexico border in an effort to prevent members of the migrant caravan from illegally entering the country. (Photo by Spencer Platt/Getty Images)

The Pursuit of Happiness
Ken Webster Jr is a talk radio personality and producer from Houston, TX. He started his career in Chicago on the Mancow show and has since worked at dozens of radio stations all over the country. He's currently the host of Pursuit of Happiness...
Read more