War on Christians: Over 290 Killed By Terrorists Easter Weekend
Over 290 were killed in Sri Lanka over the weekend as Islamic terrorists targeted churches and hotels. The majority of victims are believed to be practicing Christians.
A pair holding U.S. and British nationalities were among the 11 foreigners killed after a series of explosions struck three churches and three luxury hotels in and just outside of Sri Lanka's capital Easter Sunday, leaving at least 207 people dead and 450 others injured, officials said.
Sri Lanka's foreign ministry said the other foreigners whose nationalities have been verified included three Indians, one Portuguese national, two Turkish nationals, and three British nationals.
The U.S. State Department confirmed in a statement that "several U.S. citizens were among those killed" in the explosions, though details were still emerging. Secretary of State Mike Pompeo went on to condemn the Easter morning "terror attacks."
"Attacks on innocent people gathering in a place of worship or enjoying a holiday meal are affronts to the universal values and freedoms that we hold dear, and demonstrate yet again the brutal nature of radical terrorists whose sole aim is to threaten peace and security," Pompeo said in the statement.
The six nearly simultaneous blasts—followed hours later by two more explosions—marked the bloodshed as among the worst since the South Asian country's 26-year civil war ended a decade ago, a spokesperson for the Sri Lanka police said.
A police spokesman said 13 suspects have been arrested in connection with the attacks. Police said they also found a vehicle they believe was used to transport the suspects into Colombo, along with a safe house used by the attackers.
Defense Minister Ruwan Wijewardena described the attacks as a terrorist attack by religious extremists, though no one immediately claimed responsibility. Prime Minister Ranil Wickremesinghe said he feared the violence could trigger instability in the country and its economy.
These terrorists were targeting Christians and foreigners. It's pretty obvious who's responsible.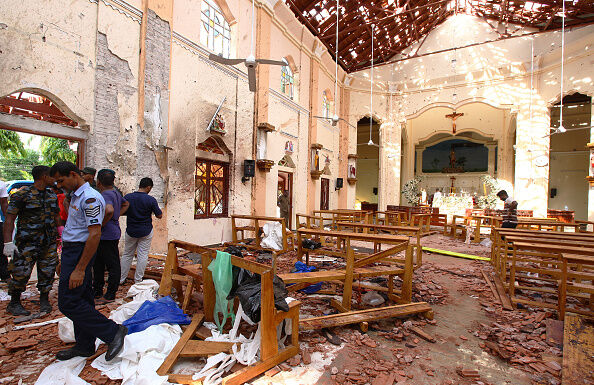 NEGOMBO, SRI LANKA - APRIL 21: Sri Lankan officials inspect St. Sebastian's Church in Negombo, north of Colombo, after multiple explosions targeting churches and hotels across Sri Lanka on April 21, 2019, in Negombo, Sri Lanka. At least 207 people have been killed and hundreds more injured after multiple explosions rocked three churches and three luxury hotels in and around Colombo as well as at Batticaloa in Sri Lanka during Easter Sunday mass. According to reports, at least 400 people were injured and are undergoing treatment as the blasts took place at churches in Colombo city as well as neighboring towns and hotels, including the Shangri-La, Kingsbury and Cinnamon Grand, during the worst violence in Sri Lanka since the civil war ended a decade ago. Christians worldwide celebrated Easter on Sunday, commemorating the day on which Jesus Christ is believed to have risen from the dead. (Photo by Stringer/Getty Images)

The Pursuit of Happiness
Ken Webster Jr is a talk radio personality and producer from Houston, TX. He started his career in Chicago on the Mancow show and has since worked at dozens of radio stations all over the country. He's currently the host of Pursuit of Happiness...
Read more