Pete Bootychug LOVES Illegals - But Does He Care About Middle America?
Remember a few weeks ago how all the liberal media idiots were swooning over Beto O'Rourke? They were all over him like your grandma at a Tom Jones concert, tossing their hotel keys and panties on the stage.
He had a Jack Kerouac moment! He drove himself all over the place to find out who Beto is! He even ate dirt in New Mexico and brought some home to the family! I wonder if somebody told him that the dirt in New Mexico can harbor the fungal infection Valley Fever…
Well, that was last week. This week's flavor of the month is South Bend Indiana mayor, Pete Buttigieg. I guess his name is pronounced Butt- I-zheg, but I'm lazy and I'm just going to call him Pete Bootychug.
Pete Bootychug hits a ton of intersectionality points—he's gay, married, and environmentalist, and claims he grew up poor. He is also a veteran of Afghanistan and a Rhodes Scholar. He does have some chops.
Now, in order to pander to the illegal immigration crowd, Pete Bootychug has announced that South Bend, IN might just be a sanctuary city.
He said the police were too busy to mess with illegals.
"I regard us as a welcoming city. Some conservative talk show host may say that makes us a sanctuary city. I don't know," he said during a town hall-style forum hosted by CNN in Manchester, New Hampshire.
He said South Bend welcomed all people regardless of whether they are in the country legally or not.
The state of Indiana does not allow sanctuary cities, and South Bend didn't quite meet the definition of what a sanctuary city is according to the Center for Immigration Studies. But Mayor Pete Bootychug wants to polish his intersectionality credentials, so he's gonna claim it.
Mayor Pete said that he believes that immigrants won't report crimes if they believe the police in the city have been "conscripted by ICE".
Mayor Bootychug's 15 minutes of fame will go on a bit longer, now that Joe Biden has postponed his announcement until next week.
But do look for the craziness to continue as the two dozen or so Democrats try to outdo each other in insanity.
2020 is gonna be so much fun. Get your popcorn ready and MAGA hat on.
Sandra Peterson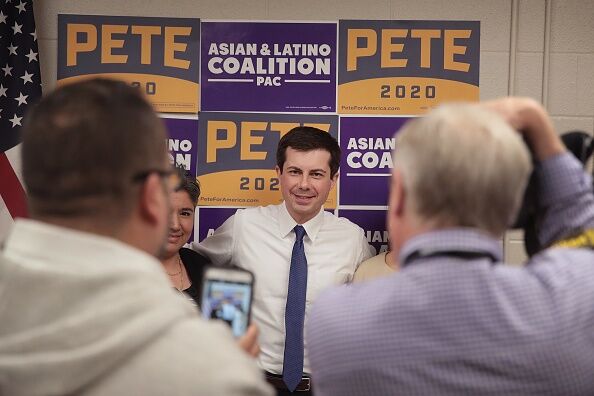 DES MOINES, IOWA - APRIL 17: Democratic presidential candidate and South Bend, Indiana Mayor Pete Buttigieg greets guest after arriving at a campaign event hosted by the Asian Latino Coalition at the Machinists Hall on April 17, 2019 in Des Moines, Iowa. Buttigieg is on his first visit to the state since announcing that he was officially seeking the Democratic nomination during a rally in South Bend on April 14. (Photo by Scott Olson/Getty Images)

The Pursuit of Happiness
Ken Webster Jr is a talk radio personality and producer from Houston, TX. He started his career in Chicago on the Mancow show and has since worked at dozens of radio stations all over the country. He's currently the host of Pursuit of Happiness...
Read more