Synagogue Shooter Hated President Trump & "Conservatives"
Over the weekend a disgusting vile monster opened fire on a San Diego area synagogue, killing one and injuring three others.
The woman who was killed, Lori Kaye, was there to mourn her mother. She died shielding the rabbi from bullets.
As for the shooter, the 19-year-old published an anti-Trump manifesto online, according to several reports.
An open letter posted to the website 8Chan by the purported shooter explained why he planned the attack.
The suspect's manifesto detailed his disdain for Jewish people and President Donald Trump, a proud supporter of Israel and parent to an Orthodox Jew (his daughter Ivanka).
The Jerusalem Post reports the manifesto's author spoke of his disdain for "international Jewry", claiming they were responsible for "sealing the doom" of the "European race".
He accused Jewish people for having power of the economy and media.
The author also blamed Jews for supporting Marxism, spreading pornography, killing Christ and persecuting Christians.
NBC News reported: "The shooter claims in the Q-and-A section to eschew political ideology, saying he does not support Donald Trump because of his support for Israel. The writer also complains that conservatives aren't violent enough in support of their politics."
One question read, "Are you a Trump supporter?"
The suspected answered "You mean that Zionist, Jew-loving, anti-White, traitorous cocksucker? Don't make me laugh."
Another question asked if the author was conservative, to which he replied:
      I am not a useless, spineless coward so no—I am not a conservative. Conservative is a misnomer. They conserve nothing. They'll complain all they want but they won't take up arms and threaten their government with death (the only thing that works). Ever heard about the Battle of Athens (1946)? Find your balls again you insufferable faggots. If you do not defend your rights you deserve none.
The author also took credit for setting fire to a mosque in Escondido, California last month.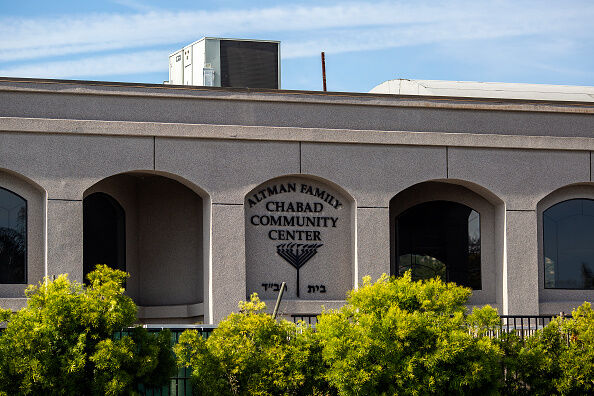 POWAY, CA - APRIL 27: The exterior of the Congregation Chabad synagogue is seen on April 27, 2019 in Poway, California. A gunman opened fire at the synagogue on the last day of Passover leaving one person dead and three others injured. The suspect is in custody. (Photo by David McNew/Getty Images)

The Pursuit of Happiness
Ken Webster Jr is a talk radio personality and producer from Houston, TX. He started his career in Chicago on the Mancow show and has since worked at dozens of radio stations all over the country. He's currently the host of Pursuit of Happiness...
Read more