It Sounds Like Texas Lt Gov Dan Patrick Want to Imprison Willie Nelson?
You don't have to be a Texan to know that country music legend Willie Nelson enjoys smoking the ganja.
He's been doing it for years. He talks about it, he sings about it and in November of 2010 he was arrested for possessing 6 ounces of the plant in Sierra Blanca, Texas - about 85 miles east of El Paso.
Willie was arrested by a police patrolman named Bill Brooks. I don't know much about ol' Bill but I'd imagine he didn't sign up to be a police officer so he could put handcuffs on a 77-year-old country music legend for possession of a plant.
Even still, the rules are the rules. Willie paid his $2500 bond and he, along with two other people, were released.
That was nine years ago. A lot has changed since then. The country, as a whole, now has a very different disposition about marijuana. Marijuana is the second most popular recreational drug in the United States, right behind alcohol. The substance is now legal in more than half of the country, either in medicinal or recreational form. In fact, every state that surrounds Texas has legal access to medical marijuana. Throw a rock in any direction from the Texas border and you'll hit a state where weed is legal (Mexico not included).
But Texas Lt Governor Dan Patrick isn't a fan... of marijuana, I mean. I don't know what Dan thinks of Willie's music, but I do know one thing: Dan Patrick has used a lot of language this week that suggests he wants to lock Willie Nelson up inside a concrete cell for the purposes of public safety.
Please don't be confused by that statement - No, Dan didn't actually mention Willie by name, but yesterday Dan Patrick told freedom loving Texans everywhere that he knows what's best for you when it comes to sticky green pants and he will punish you if you try to challenge him.
You see, here in Texas a bill to decriminalize marijuana recently passed the Texas Congressional House. This was pretty exciting news for evangelists of liberty, but the celebration was short lived when Texas Lt Gov Dan Patrick declared the bill will never pass in the Texas State Senate.
In order to become a law, the Bill needs the approval of both the Governor of Texas, Greg Abbott, who has already agreed he wants to decrease the penalty for possession of the plant, and also approval of the State Senate, where Dan Patrick pretty much runs things.
House Bill 63, authored by state Rep. Joe Moody (D-El Paso) was designed to lower possession of one ounce or less from a Class B to a Class C misdemeanor, which is the same classification as a traffic ticket. And if someone possess in between one and two ounces they will be charged with a Class B misdemeanor which is punishable by a fine of up to $2,000 or jail time (or both).
As I said before, Willie Nelson was caught with six ounces back in 2010. 
But less than 24 hours after the Texas House approved a bill that would reduce the criminal penalties for Texans possessing small amounts of marijuana, Lt. Gov. Dan Patrick, a.k.a. Captain Buzzkill, said the measure will die in the Senate.
Lt Dan hopped on Twitter yesterday and told his followers:
   Criminal Justice Chair @Whitmire_John is right that #HB 63 is dead in the @Texas Senate. I join with those House Republicans who oppose this step toward legalization of marijuana.
How embarrassing that our Lt Governor doesn't know the difference between legalization and decriminalization. For those who don't know the difference, here's a quick refresher:
Legalization means you can sell it at dispensaries or write prescriptions for the substance if you're a physician.
Decriminalization means you won't be jailed if you're caught with it (you just pay a fine or receive a citation).
In case you're wondering, Texas voters don't agree with Lt Dan's stance on marijuana. Not even close. 
According to a Quinnipiac University poll from last year, approximately two-thirds of Texas voters support legalizing recreational marijuana. That includes the Republicans.  These are the same people who elected Lt Dan.
But Lt Dan doesn't care what voters want. His constituent's opinions are irrelevant. He's not interested in looking at research suggesting cannabis can help treat cancer patients or old ladies with cataracts and arthritis. He doesn't care what legal marijuana will do to the Texas economy, nor is he interested in hearing about how the illegal marijuana trade funds the cartels responsible for the human rights crisis at our border. Is Lt Dan trying to help the cartels and hurt old ladies who suffer from pain? Again, it kind of feels that way. Research on THC and CBD overwhelmingly suggests it's a safer alternative to opioids, which are legal for medicinal use in the Lone Star State. 
So does Lt Dan want more middle aged Americans getting hooked on opioids? Why would he take such a damaging position?  
Sorry, two thirds of voters, but Lt Dan's not interested in listening to any of your logical arguments and talking points. 
Speaking of opioid addiction, according to online reports about political donations, Lt Dan has something far more important sitting on the plate of his political career... a gigantic donation from Big Pharma.
VoteSmart.org, a website that tracks candidate's donations, says Dan gets $97,500.00 a year from the pharmaceutical industry; the same pharmaceutical industry who sells your elderly aunt her pain meds. Lt Dan also gets $12,500.00 a year from the tobacco industry and an additional $3,216,356.48 from oil & gas. Oh yeah, don't forget the $720,458.30 he got from the beer/wine/liquor industry.
Personally, I have no problem with tobacco, pharmaceuticals or energy, but lobbyists from all these industries have shown resistance against cannabis and hemp production because it might potentially damage their bottom line and lower their annual profit margin (especially Big Pharma).
I'm not suggesting Lt Dan took a bribe. I have no idea what kind of arrangement he has with his political donors. But I do sense a conflict of interest in his behavior: his constituents clearly don't want to criminalize people for possessing something that God created but he doesn't seem to want to listen to them.
Gosh, I wonder why?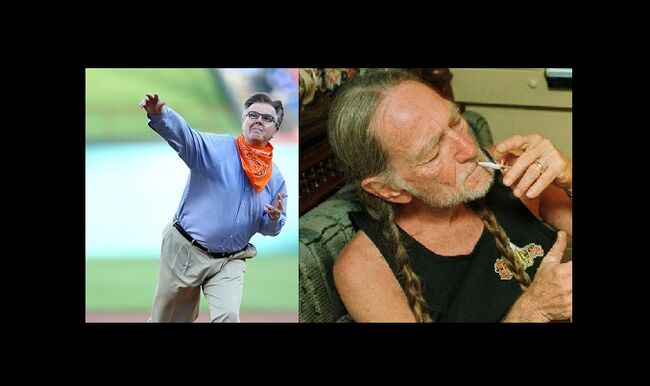 The Pursuit of Happiness
Ken Webster Jr is a talk radio personality and producer from Houston, TX. He started his career in Chicago on the Mancow show and has since worked at dozens of radio stations all over the country. He's currently the host of Pursuit of Happiness...
Read more