Biden: Americans Are "Obligated" to Fund Healthcare for Illegals
If you're an illegal immigrant, Americans are "obligated" to pay your healthcare bills, according to 2020 Presidential hopeful Joe Biden at a campaign stop in California on Wednesday.
Biden said, "I think that anyone who is in a situation where they're in need of healthcare, regardless of whether they are documented or undocumented, we have an obligation to see that they are cared for. That's why I think we need more clinics around the country."
Never mind the fact that immigration arrests at the Southern border are at an all time high. Biden thinks anyone who violates our immigration law is entitled to free healthcare.
Biden also claims most illegal immigrants are only here because they overstayed their visas.
"It's not people breaking down gates coming across the border," Biden said.
Last month U.S. Customs and Border Protection detained 109,144 migrants at the Mexico border. That's up 6% from the previous month and the number of illegal immigrants crossing our border is more than twice what it was the previous year. 
We're literally talking about millions of people.  Can we afford to pay for all of their healthcare?! We're $22 trillion in debt.
Joe Biden is out of his mind.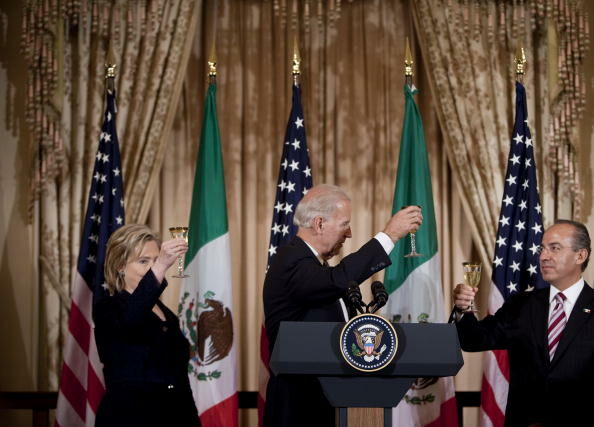 WASHINGTON - MAY 19: Secretary of State Hillary Rodham Clinton (L), Vice President Joseph R. Biden (C) and Mexico's President Felipe Caldero toast during a luncheon at the US State Department May 19, 2010 in Washington, DC. Secretary of State Hillary Rodham Clinton and Vice President Joseph R. Biden hosted Mexico's President Felipe Calderon and his wife Margarita Zavala for a luncheon before the couple traveled to the White House where they will meet with President Barack Obama and have a state dinner. (Photo by Brendan Smialowski/Getty Images)

The Pursuit of Happiness
Ken Webster Jr is a talk radio personality and producer from Houston, TX. He started his career in Chicago on the Mancow show and has since worked at dozens of radio stations all over the country. He's currently the host of Pursuit of Happiness...
Read more